In Brief
Low-and-middle-income (LMI) households spend three times more on their energy bills than higher income households do, and the issue has been exacerbated by the global pandemic.
This disparity occurs in both competitive (deregulated) and regulated electricity markets, but competitive markets have unique opportunities to bring affordable clean energy to disadvantaged communities due to the market structure. 
Looking at Texas as one of the largest competitive markets, CEFF sizes up established relief programs and seeks out renewable ways to correct this market failure.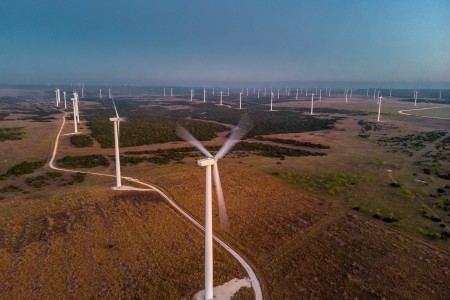 Maryanne and her family review the electricity bill at the end of every month, and a $25 bill increase results in a heated family discussion about how to minimize electricity-usage. She lives in the Houston metro area, and her grown children have moved in and out of the house over the years. (CEFF has agreed to tell Maryanne's story with a fictional name.)
Houston is a competitive electricity market, meaning that Maryanne can, in theory, evaluate different retail providers online and switch plans to save money and/or buy clean energy. Despite this opportunity, Maryanne has been with the same electricity provider since she moved into her apartment building over 10 years ago. She has stayed with this provider because she gets free nights and weekends in exchange for higher week-day rates, so she only runs the dishwasher on the weekends. Moreover, the Texas electricity website "powertochoose.com" requires users to estimate their monthly electricity consumption in kWh and to evaluate 100+ plan options for their zip code. So it's easier to stick with the same provider even if cheaper rates could be found elsewhere.  
Background
Low-income households, like Maryanne's, on average pay 7.2% of their household income on utilities, in comparison to high income households who only pay 2.3% on  average. This percentage of household income that goes toward energy costs is referred to as "energy burden".  In Dallas, the energy burden is 8.8% for low-income households. In Houston it is 6.94% compared to high income households whose energy burdens are 4.25% and 3.24% respectively. 
The Texas Energy Poverty Research Institute (TEPRI) looked at the causes and effects of higher energy burdens, and found that the burden is frequently caused by poor housing quality and low energy efficiency (especially in rental properties), along with unpredictable household income streams. Effects include greater mental and physical stress on families, and studies have attributed greater rates of sickness and morbidity as a result of asthma, depression, anxiety, diabetes, stroke, and heart attack to low-income energy burdens. In particular, errors in heating or cooling have the greatest impact on children and the elderly. If households are not able to pay their bills and have their electricity turned off, they may not be able to refrigerate their medication or they may have to make a trade-off between buying medication and paying the bills.
The energy burden is even higher for African-American and Latino households. African-American and white households have similar utility bills according to the American Council for an Energy Efficient Economy (ACEEE). Yet, African-American households have an energy burden 64 percent greater than white households (5.4 percent and 3.3 percent, respectively). 
Meanwhile, Latino households had an energy burden 24 percent greater than white households (4.1 percent and 3.3 percent, respectively), despite having utility bills that were less than African-American and white households on average . This is because the median income for African-American households ($35K) and Latino households ($40K) is significantly lower than the median income for white households ($58). In addition, African-American and Latino households live on average in smaller homes. Therefore, even though these households are paying equal or less than white households on monthly utility bills, their utility cost per square foot and their utility cost as a percentage of their annual income are both significantly higher.  
Texas is one of 16 states with some form of competitive (deregulated) natural gas and electricity market. Generally, this means that customers can shop online, compare plans, and sign-up for anywhere from a 6-month to 3-year contract with an electricity provider. The transmission and distribution is still provided by the public utilities company, but the actual electrons generated can be purchased from different providers, including wind and solar energy farms. 
In Texas alone there are 121 active retail electricity providers (REPs). Although there is no publicly available data, Escalent estimated that 1 in 4 Texans plan to switch providers (as of 2019) and Oncor Energy of Dallas said that only 1 in 8 signed up with a new company in the last 12 months (as of 2018). One reason for the low switching rates may be high customer satisfaction, but that seems unlikely since in 2018, "complaints filed by Texas consumers increased for the second consecutive year and now stand at a four-year high."
Another likely factor is the complexity of shopping for energy. Regardless of income, many ratepayers are not "energy literate."  Retail options seem to assume otherwise. 
Customers can shop on a specific electricity provider's website or the state utility commission's 'Powertochoose.com.' Most sites only ask for the person's zip code, and then show them a list of options. Even though two households in the same zip code may have vastly different electricity consumption needs, the same plans are shown to all households in the same geography. To combat this, Powertochoose.com advertises a 'narrow your search' option. However, this option asks for terms that shoppers might not know: average electricity consumption in kWh, preferred rate structure (fixed, variable, market), and preferred length of contract. Finally users must scroll through available plans and investigate if there are hidden fees. 
Sensing a market opportunity, energy brokers such as Energy Ogre charge customers a monthly fee to do the electricity shopping and switching for them. Consumer advocacy groups, such as the Texas Ratepayers' Organization to Save Energy (Texas ROSE), bring some of these concerns to the PUC including the complaint of too many hidden fees.
It is no surprise that low income households have significant challenges participating in this market, and the TEPRI report cites language barriers and lack of internet as key reasons why households struggle to participate. 
 
Historical Initiatives

In response, government organizations, nonprofits and utilities all have programs in place to assist low-income households manage their utility bills and improve their energy efficiency. For example, Reliant Energy in Texas (a subsidiary of NRG Energy) has a program called CARE (Community Assistance from Reliant Energy) that works with nonprofit social service agencies to provide funding to customers who qualify for assistance with their electricity bills. However, this assistance is up to the discretion of the nonprofit and is meant to supplement and not cover the entire bill.
Meanwhile, the Public Utility Commission of Texas used to provide a discount to households through the 'LITE-UP' program, but it officially ended in 2016. Where government programs are available, TEPRI found that many governmental programs are fragmented and present overwhelming obstacles to low income enrollment. 
Without LITE-UP, Texas's main program is the federal Weatherization Assistance Program, which helps low-income households conduct an energy audit and buy and install weatherization measures to increase energy efficiency. This nation-wide program provides weatherization services, such as installing insulation and installing efficient light sources, to approximately 35,000 homes every year. Recipients of the grants may  not have been aware of these weatherization measures. If they were aware they may have been unable to pay the average cost per household of $6500 and would not qualify for loans due to low or nonexistent credit scores. The program is restricted to households that are at 200% of the federal poverty level; less than $21,550 for a two-person household.
Another method of helping LMI households decrease their energy burden is by building large scale solar installations (known as solar farms) near communities, which then operate as power plants and provide electricity to the electric grid. The business model, referred to as "community solar", typically involves multiple households or businesses owning or leasing shares in a nearby solar facility. In exchange, the participants have their monthly utility bills reduced based on how much power the solar panels contribute to the grid. Yet, community solar faces the same challenges as energy efficiency projects in that they require large upfront costs and complicated contracts. According to a November 2018 survey, a small share of a small share that includes any low-income participation has greater than 10 percent participation. 
In addition, community solar has faced significant growing pains. One reason is because community solar programs often require the utility to create new billing system functionality to account for the solar energy credited to each participant's monthly state. There is also no state-wide regulation, so utilities, cities and third parties must lead independently. In addition, it is challenging for community solar to build large enough solar installations to achieve low generation costs. Therefore, there are very few community solar programs in Texas (9 as of 2017). One organization that did work through the required steps, is MP2 Energy (a Shell Subsidiary) and Harvest Moon Renewable Energy Company (now LocalSun Renewable Energy Company). In 2016, they partnered to provide residential customers with offsite, local sourced solar power, in exchange for a five-year contract.
New Initiatives
To combat these challenges and innovate, the Houston Advanced Research Center (HARC) recently received a Solar & Storage for Disadvantaged Communities Grant from SETO (Solar Energy Technologies Office),  an office of the Department of Energy. They are exploring options to start a REP that provides solar electricity at a low rate specifically to disadvantaged communities. 
The REP would most likely buy electricity from utility scale solar installations, then sell that electricity at as low of a price point as possible to the community. In addition to buying energy from solar installations, they may also partner with organizations to "host" solar panels on the rooftops of local community buildings such as schools. Buildings with a large rooftop surface area would host the solar panels and the REP would buy the generated electricity. Finally, HARC is exploring options to build storage capacity via batteries in these communities to increase resilience to power outages. Anyone who lived in the designated area and met an income threshold would be invited to participate.
In an interview, Gavin Dillingham, Program Director of Clean Energy Policy at HARC, said that this REP would serve a specific disadvantaged community rather than showing up in the general marketplace. This is because in general, REPs do not service LMI households and if they do, they charge them high prices and cancellation fees to ostensibly protect the solar provider against loss. Whatever HARC creates will need control over the size and scope of the customers and a method to de-risk credit liability.   To his knowledge, there are no other REPs in the country trying to reach low income households through this business model.
Dillingham emphasized  the importance of educating and including the target community. He is not alone in recognizing this lever: TEPRI said in their 2017 Energy Poverty Research Landscape Analysis that "reinventing customer engagement is the most glaring and broadly agreed upon opportunity to improve service to LMI consumers." HARC plans a community participatory research program to ensure input from the local households. They also received a grant from the Hershey Foundation to fund the education and outreach components of the project, after the scope of the DOE grant was reduced to just the financial model.
Despite this recommendation from TEPRI, there are very limited programs in place to educate consumers about the options when it comes to shopping for electricity. Currently, electricity providers are the main source of education and information for customers. However, communications are frequently marketing materials meant to sign up new customers. 
Once customers have signed up, providers usually follow the bare minimum regulatory requirements, which require providers to register with the PUC and bill the customer monthly. REPs may not want to communicate with their customers more frequently out of fear that the customer will leave and switch plans. In addition, since REPs may not want low-income customers, they are not incentivized to do any education or outreach to those communities. Since there are misaligned incentives when it comes to REPs providing education, it makes sense for a third party, like the PUC, to provide outreach and engagement. However, Powertochoose replied to an email inquiry that there are no education programs and that customers must use the website or call the customer service line. 
Customer engagement is vital to reducing the energy burden of low income households. Community solar and energy efficiency programs require high upfront payments, which can discourage low-income participation.  
However, the question remains if coordinated education about the choice to shop for energy could benefit low income households. The TEPRI report states that "bill reductions, through whatever mechanism, provide the most benefit to LMI consumers by muting the economic hardship exacerbated by energy burdens and reducing the incidence of tradeoff scenarios such as the 'heat or eat' dilemma". Therefore, enabling customers to lock-in lower electricity rates by shopping providers could be another method of reducing energy bills. Maryanne as a renter would not be eligible for many of the energy efficiency programs, and she makes sufficient money to not qualify for Reliant's CARE program.
 Yet she would likely benefit by shopping for lower rates. The barrier is that she does not have the resources and education to do so.