In Brief
Timber House, New York City's first "mass timber" condo development, uses columns, beams, and floor plates made from pieces of softwood.
Mass timber advocates say that wooden buildings can store carbon and reduce the need for emissions-intensive cement and steel.
This case study examines the promise of –– and common concerns about –– mass timber construction.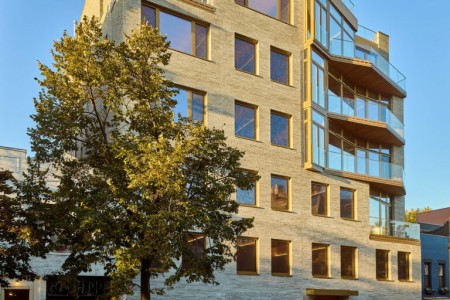 When Google Maps told me that I had arrived at 670 Union Street in Park Slope, Brooklyn, I had to double check that I had come to the right place. I was interested in the 14-unit, 27,000-square foot apartment complex because its structural system and floor plates are made of wood, rather than emissions-intensive steel and cement. From the outside, however, the building looks like a typical condo. The only signs of the unusual material are the wooden undersides of the balconies and awning. 
"Timber House," as 670 Union Street's developers have marketed the property, is New York City's first mass timber condo development. The building has received a flurry of media coverage, and headline writers have had a field day with the evocative building material. 
"A Tree (House) Grows in Brooklyn," reported Reuters. 
"They're shouting 'timber,' but nothing is falling," said the New York Post. "In fact, wood is on the rise."
Real estate is the source of around 40% of global greenhouse gas emissions, including 11% that come just from making building materials. Mass timber panels, which consist of small pieces of softwood glued together, offer a lower-emissions alternative to steel and cement, as well as a method of storing the carbon sequestered by trees. Driven by climate concerns, mass timber technology took off in Europe and spread to the United States via the Pacific Northwest.
Eric Liftin, Timber House's architect and co-developer, offered to show me around his project. When we met outside Timber House, I asked him why the wooden building had a brick facade. He explained that in addition to the bricks' aesthetic value, the one brick-wide layer covered a layer of insulation and waterproofing. 
In contrast, Liftin's firm designed the inside of the building to show off exposed wooden structural features. The result is apartments with interiors that resemble sleek treehouses. Timber House's wooden ceilings, made from yellowy-orange Douglas fir and larch, are supported by wooden columns. The floors are southern yellow pine. The apartments' walls are painted white, which keeps the focus on the wooden elements and the views. From the upper floors of Timber House, I could see over surrounding townhouses to the Manhattan skyline. The views are ringed, picture frame-style, with wooden window frames.
When the sun filters through the windows, the wood in Timber House seems to glow. "Oh, that's nice," Liftin said when we walked into a room where a beam of light illuminated a strip of floor. He took out his phone to snap a photograph. 
Timber House's apartments also feature 11 foot-high ceilings. Traditional construction typically involves a dropped ceiling that hangs below a structural ceiling. However, Timber House's wooden structural ceilings had the potential to be some of the building's most beautiful attributes. So Liftin saved money on material and mostly avoided using dropped ceilings, except for in bathrooms and hallways where they obscure plumbing and wiring. 
The high ceilings give the apartments an expansive feel. "Everybody walked in and went, 'Wait, how big is this?'" said Lindsay Barton Barrett of Douglas Elliman, the real estate agent for the project. "Everyone thought they were just much larger than they were on paper."
*** 
Although climate-conscious builders have hailed mass timber as innovative, the technology first emerged over a century ago. In 1901, a German carpenter named Otto Karl Freidrich Hetzer received a patent for a new kind of wooden beam. The beam consisted of several pieces of wooden laminations glued together with their grains running parallel to each other. This technique became known as "glulam" timber. By combining smaller pieces of softwood using sturdy adhesive, Hetzer created larger beams with versatile potential uses.
However, mass timber did not take off until the early 1990s when researchers at Austria's Graz Technical University developed cross-laminated timber (CLT) panels. CLT comprises layers of wood arranged so that their grains are perpendicular to each other. Since wood's strength lies in the direction of the grain, CLT panels have strength in two directions. By the 2000s, CLT panels had spread from Austria across Europe (although according to many estimates, the majority of the world's CLT products are still produced in Austria). Projects in Washington State followed. 
The Douglas fir and larch trees used for Timber House's wooden panels came from eastern Washington State. Typically, mass timber products are made from young softwood trees raised in well-maintained timberlands. But Vaagen Timbers, the company that provided the material for Timber House, uses unmanaged trees harvested at ages as old as 50-70 years. As part of a commitment to responsible forestry, Vaagen thins mature forests to remove fuel for wildfires. Most of Timber House's wood came from forest restoration projects in and around Washington's Colville National Forest, a mountainous stretch of federal land near the US-Canadian border.
Vaagen Timbers was founded in 2017 by Russ Vaagen, whose family has operated a sawmill for four generations. The entrepreneur noticed the growing market for mass timber and realized that mass timber panels could make use of thinner trees that timber supplies usually would not touch. The mass timber plant he started is next door to his family's sawmill in Colville, WA.
You have all your wood lined up on the street, precision-cut to fit together like a Lego system.
As Liftin began to draw up plans for developing 670 Union Street, he already knew about the growing popularity of mass timber. But he associated mass timber buildings with Europe and the Pacific Northwest, not New York City. "I didn't think that it was something that would be done in New York," he said.  
Then, however, Liftin came across CLT projects in the city created by students at Pratt's School of Architecture. "That started me on the adventure," he said. Liftin was also inspired by the construction of Brooklyn's 283 Greene Avenue, a five-story, 10-unit rental building that uses CLT columns and beams. The building, which is called Frame 283 and opened in 2020, obtained a special exception from city zoning officials to use CLT. 
As Timber House was nearing completion in 2022, CLT formally became permitted under New York City's building code. However, when Liftin's team was drawing up plans for the building, it was clear that getting permission to use CLT would be onerous. As a workaround, Liftin decided to use glulam for the condominium's structure and only use CLT panels for some non-structural features. He described glulam as a "legacy building material" that is accepted by regulators because its use is well-established. 
Liftin's interest in using glulam led him to Vaagen Timbers, whose marketing materials included photos of both glulam and CLT offerings. The architect did not realize that glulam products could look as nice as the ones that Vaagen created. "I thought it had to be more rough," he said. "And so I saw pictures of it in Vaagen's brochure, and I thought it actually looked really good."



Liftin sent his plans for Timber House to Vaagen Timbers, which provided glulam product recommendations. The company created a "layout drawing" depicting all the panels for the building and where they would go. Once both sides had agreed on the terms, Vaagen used an automated CNC machine at the company's plant to cut the panels to the precise specifications. The Vaagen team applied some finishes, like a protective coating, by hand. 
One advantage of mass timber is that the pre-fabrication of the material enables a speedy and straightforward construction process. "It's like putting together a large piece of Ikea furniture," said Liftin. "The connectors are all pre-attached onto the columns and beams. So they just have to lift them in place with a crane, and bolt them, and go to the next one. It all assembles in a very logical, procedural way."
Robert Steffen, an engineer who consulted on Timber House, offered a similar analogy. "You have all your wood lined up on the street, precision-cut to fit together like a Lego system," he said. He observed that mass timber construction not only involves less time, but also less labor and less waste.
Since Timber House is one of New York City's first mass timber projects, there are not many New York-based builders who have worked with the material. The contractor that Liftin hired had no mass timber experience. However, the learning curve was mild. "When they first started, they thought, 'Well, it'd be much faster for us to just do this in concrete,'" said Liftin. "And as time went on, they started to be like, 'This actually is pretty easy.'" 
Steffen has collaborated with WoodWorks, a timber industry association, to create mass timber training courses for contractors. He said that the information is "mostly intuitive," but that improving the construction industry's familiarity with mass timber is "extremely important" to the adoption of the technology. "Contractors give price quotes. Architects and designers rely on those quotes to decide whether or not to get a project started," he explained. "If contractors aren't familiar with things, oftentimes they will inflate those quotes." Hesitance on the part of contractors could doom mass timber projects from the start.
***
As any middle school science student can tell you, trees feed themselves through "photosynthesis," a process that combines carbon dioxide, water, and energy from the sun. Although carbon-dioxide is a dangerous waste product of modern life, the gas is the natural building block of trees. Carbon accounts for around half of a dry wooden board's mass.
In the natural world, carbon is released when trees die and decompose. However, when trees are used to build Timber House, the embedded carbon is locked up for as long as the building stands. Meanwhile, sustainably-minded foresters can replant new, fast-growing softwood trees. These trees absorb more carbon in what Liftin calls a "virtuous cycle."
Over 10% of global greenhouse gas emissions come from building materials and construction, researchers say. The production of steel and cement, two key building components, is notoriously tricky to decarbonize. Steelmaking requires high temperatures, meaning large amounts of energy. Cement production requires transforming calcium carbonate (limestone) into calcium oxide (quicklime), releasing carbon in the process.
Mass timber technology allows builders to sidestep this conundrum. Instead of finding ways to decarbonize cement and steel production, new buildings can substitute those emissions-intensive materials with wooden panels. 
Although cutting down trees to help the environment might seem counterintuitive, sustainable forestry can provide an important carbon sink. Environmentally-conscious investors have poured money into similar "carbon to value" technologies. Startups are experimenting with chemical reactions that can turn carbon-dioxide into baking soda, rubbing alcohol, diamonds, and even vodka. But the natural process of photosynthesis is already a pretty good carbon-to-value system. If more builders adopt mass timber technology, photosynthesis can be scaled as a climate solution.
Of course, not everyone can live in a Park Slope condo where one-bedroom apartments go for $1 million. Timber House's one-bedroom apartments started at $995,000, while three-bedroom units have sold for over $3 million. Yet many experts told me they believe that mass timber buildings can help sustainably shelter the world's growing urban population. Steffen, the engineer who consulted on Timber House and a construction management professor at Western Carolina University, said that mass timber is "by far the greenest material we have for commercial building."
Alan Organschi, an architect who teaches at the Yale School of Architecture, emphasized that mass timber's embedded carbon might one day make buildings carbon-negative. "Mass timber is a tool –– if used appropriately, regeneratively –– to mitigate and potentially reverse climate change," he said. Organschi co-authored a paper in Nature Sustainability concluding that mass timber is more reliable and economical than other methods of carbon storage.
If more builders adopt mass timber technology, photosynthesis can be scaled as a climate solution.
Over the course of a mass timber building's life cycle, many variables go into a building's carbon footprint. This cycle starts with companies such as Vaagen Timbers that seek to practice sustainable forestry. Organschi's paper calls replanting trees a "precondition" for achieving mass timber's climate benefits. Although making a glulam or CLT panel is less emissions-intensive than producing steel or cement, energy is also required to harvest, dry, cut, and glue wood. "The industry really needs to do their homework and drive down the emissions from the whole processing part," said Niko Heeren, a civil engineer and sustainability researcher for Zurich's city government who has worked on mass timber projects.
Heeren expressed concern that the growing demand for timber might strain sustainable sources of the material. He said that when public buildings in Europe solicit construction proposals, the vast majority now involve mass timber, a shift from just five years ago. "There could be a huge run on timber in the future," Heeren warned. "I think that's something people are overlooking right now. There will be huge competition. So prices may go sky high."
Beyond harvesting and production, significant emissions also come from transporting mass timber panels from production to construction sites. In the case of Timber House, the wood products traveled over 2,500 miles from Colville, WA, to Brooklyn, NY. As mass timber becomes more widely-used, more facilities might emerge to meet local market needs. "The closer you can get to local production, the better," said Barbara Reck, a senior research scientist at the Yale School of the Environment and a co-author of the Nature Sustainability paper with Organschi.
The end of a building's existence is another critical chapter in a mass timber panel's life cycle. If buildings really are going to serve as carbon sinks, wooden panels must exist in perpetuity. Fortunately, since mass timber panels are precision-cut and fit together cleanly, the material can be disassembled and recycled. In contrast, wood from conventional frame construction is difficult to reuse. "You put a million nails on it and stuff like that," said Steve Marshall, a mass timber consultant who led the wood innovations program for the US Forest Service.
***
When touring Timber House, potential residents did not ask for a life cycle analysis of the building's carbon footprint. Instead, Barrett, the real estate agent, said apartment buyers inquired most frequently about two things: fires and costs. 
"We got people asking, 'Isn't this a really flammable material?'" she said. 
I had a similar thought. When Liftin told me that New York City's building code still required him to use a masonry core for Timber House, I instinctively responded, "That makes sense." Since a core is the center of a building, where the elevator shaft and stairs are located, a fire-resistant core seemed safer for residents. But Liftin pushed back.
"It makes sense intuitively, I guess, but not in reality," he said. "It's been tested many times. There are plenty of mass timber buildings with mass timber cores." 
When wood chars, the char forms a fire-resistant layer that protects the structural inner part of the wood. To meet fire code, mass timber buildings simply need to use wood of a certain thickness, which chars instead of burning. Residents have time to evacuate and firefighters can respond. 
In contrast, Steffen, the engineer, said that steel performs "terribly" in fires. "It will yield, the strength will go down, the stiffness will go down," he said. Steel requires an additional fire retardant coating, but the coating can wear out during a fire and is sometimes applied incorrectly. 
Steffen, who proved adept at parrying any hypothetical criticism of mass timber I could propose, also addressed concerns about cost. While mass timber often involves higher material costs, he said that the cost curve will likely fall and developers have to consider that the material comes with cheaper labor and equipment costs. For residents, Timber House's insurance costs also were comparable to those of a conventional building. 
In the end, apartment buyers' excitement won out over what Barrett called "guinea pig" concerns. "We had clients who I'd been working with for at least a year, and there was just nothing that they really liked," she said. "And they walked in and went, 'Wow, this is really different. This is really special.'"
I asked Liftin if Timber House's neighbors were equally excited. But he laughed. "The immediate neighbors mostly are not in favor of having construction," he said. "It's just the way the neighbors are."