In Brief
States have big plans for offshore wind power. An equitable rollout of this industry can help states meet their environmental and social justice commitments.  
Current federal policy misses a chance, argues the author, to support the Northeast's appetite for more offshore wind - and to retire dirty peaker power plants. 
A new approach to capacity markets can correct this misalignment, according to this policy memo.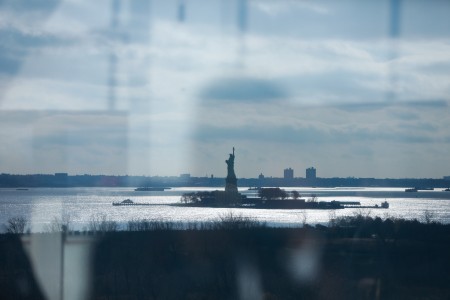 The policy memos we publish distill what participants learn about stakeholders, terms and levers in the Policy module of the Financing and Deploying Clean Energy certificate program. We invite you to absorb the authors' thinking, reflect on how it clarifies issues in your own work, and consider applying or referring a colleague to join the next FDCE cohort. We're accepting applications here through March 13.
To: Richard Glick, Commissioner,  
From: Valerie Stori, Yale Financing and Deploying Clean Energy Certificate Candidate 
Date: 26 September 2021 
Re. Frontline communities can benefit from a new PJM capacity market structure that enables offshore wind deployment 
Dear Chairman Glick, 
Your regulatory agency, FERC, should support PJM's request to enhance the December 2019 expanded Minimum Offer Price Rule (MOPR) that effectively prohibits offshore wind and other state-supported resources from participating in capacity-market auctions. The rule made it difficult for offshore wind providers to participate in capacity market auctions. Now, to advance the buildout of renewable energy, FERC should set a process and timeframe for adopting a new market structure. That structure should be adaptable and transparent, advance state offshore wind policy goals, meet consumer clean energy and equity goals, and maintain reliability. 
: The wholesale capacity market framework must evolve alongside state policy and consumer trends, both of which support offshore wind deployment to advance a clean energy future. Federal capacity market design is misaligned with states' statutory requirements to decarbonize the electric sector in an equitable manner. 
Capacity market participation can provide valuable compensation for offshore wind projects. In my personal communication, I've heard a market participant say that capacity market revenue provides approximately 7% of an offshore wind project's revenue assuming a capacity revenue of about $5.50/MWh and an energy and contract of $77/MW. This additional revenue helps wind developers to attract necessary financing and improve their value proposition. Without capacity market participation, offshore wind projects face volatile spot pricing in wholesale energy markets and earn little revenue from energy markets in general.
Fair compensation for offshore wind's capacity obligation would not only drive down costs for ratepayers, but also help states achieve their clean energy goals including enhanced system reliability. The current capacity market framework, designed to source capacity from thermal generators, is no longer uniquely positioned to maintain resource adequacy at least cost in a future dominated by variable renewable resources like offshore wind. A new vision and framework that supports state clean energy targets, equity mandates, and customer choice is needed. 
 Opportunity: Offshore wind is highly reliable and has a high capacity factor (25-30% in PJM and between 45-50% in ISO-NE), especially during the winter months. As we move towards an all-electric future, PJM will experience higher winter peak demands according to its own projections. Currently, states in the PJM region have a collective target to deploy 21,900MW by 2035. Offshore wind can reliably meet these demands. Offshore wind projects can provide a high average load factor, firming capacity, grid reliability, low capacity price, and lower overall costs (due to zero marginal fuel costs).
Securing An Equitable Transition: In addition to clean energy mandates, the federal government and several states are prioritizing environmental and energy justice initiatives (e.g., through the federal Justice40 Initiative and New Jersey's Environmental Justice Law) that commit a certain percent of the overall benefits of clean energy investments to flow to environmental justice frontline communities. Frontline communities have long suffered the adverse health impacts of air pollution from peaker plants. 
This problem affects human health each day. More than 1,000 of the fossil fuel peaker plants in operation across the US are disproportionally located in frontline communities. Replacing these peakers, especially older legacy generators, with offshore wind generation presents an opportunity to eliminate harmful emissions and improve health. Mitigation of the expanded MOPR and the subsequent replacement of the current capacity market framework with one that fairly compensates offshore wind will both hasten the elimination of harmful power plant emissions and advance state clean energy policy.  
Recommendations: 
FERC should provide PJM with clear milestones for designing alternatives to the current capacity market framework that are transparent, advance states' clean energy and equity mandates, result in system-wide emissions reductions, ensure system reliability, and minimize system costs ultimately borne by ratepayers. 
FERC should consider mitigating the expanded MOPR with a clean capacity standard similar to the renewable portfolio standard that would provide targets and timeframes for achieving clean capacity while maintaining reliability at the local and regional levels. A clean capacity standard could be offered in a market-like commodity exchange as proposed by the American Clean Power Association. Its "Capacity as a Commodity" proposal (CAAC) seeks to combine a certificate tracking and trading platform, which would serve as a forward bilateral exchange of direct trading of "capacity credits," reflecting real-time market impacts of state energy policies. In addition, as that proposal's authors argue, PJM could work to ensure system reliability by acting as a "backstop" and administering a residual reliability auction to ensure local and regional reliability. 
This framework would complement existing policy frameworks for the procurement of clean energy (e.g., renewable portfolio standards) by providing additional market revenue to offshore wind projects and ultimately lowering ratepayer costs.  
A flexible forward-looking capacity market framework can advance state energy and equity goals enabling offshore wind participation and contributing to its financial viability. With more offshore wind off the region's coast, the region can plan for peaker plant retirement while maintaining system reliability and improving the public health of frontline communities.