In Brief
When gas prices zigzagged to record highs, the world also saw a peak in opinion-dispensing about implications for the energy transition. 
A serious chunk of the gas price results from Russian manipulation of supply over the past several years, giving the undemocratic state some apparent leverage. 
But how long can leverage hold? In this op/ed, the case emerges for investing more, and more patiently, in sources less beholden to geopolitical tricks.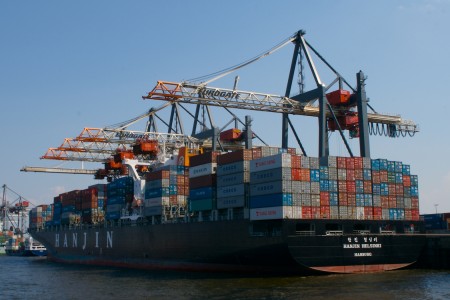 The COVID-19 pandemic has created shortages of basic necessities around the world as global trade and shipping have slowed due to bottlenecks within understaffed logistics and  manufacturing. This affects solar panels and wind turbines sitting on ships in ports.  The price of shipping containers increased from approximately $5,000 for a 40 foot shipping container in July 2020 to approximately $27,000 in September 2021. And where economics squeeze ships, they squeeze fuel supply more tightly. That situation flows into a bigger crisis in heating supply that's cutting across Asia and Europe and likely to reach the United States. 
Currently, the hottest commodity facing supply constraint is natural gas.  Prices for fossil fuels have reached record levels this fall, undermining the thesis that fossil fuel companies are collapsing and creating space for Russia, a major gas producer, to set energy prices at global scale. The first reports of a natural gas shortage came  from the United Kingdom and the European Union as Russia's natural gas export to the European Union and the United Kingdom decreased. Currently, Russia provides approximately 40% of the European Union's natural gas imports. It has proposed a new pipeline called Nord Stream 2, which will double Russia's natural gas export to Europe. In the context of the gas crunch, pipeline politics affect renewable economics.  
Nord Stream 2 provides Germany with enough gas at a lower carbon intensity than coal to allow German politicians to directionally claim progress toward a carbon-neutral economy.  Nord Stream is a system of offshore natural gas pipelines, running through the Baltic Sea. Currently, there are two Nord Steam pipelines that run from Vyborg, Russia to Lubmin, Germany. Another set of twin natural gas pipelines already run from Ust-Luga, Russia to Lubmin, Germany. Both of these twin pipelines are approximately 1,230 kilometers in length and Nord Stream 2 has followed the existing Nord Stream twin pipeline route under the Baltic Sea. The Nord Stream 2 pipeline system can essentially double the annual natural gas carrying capacity to 110 billion cubic meters.  
That supply picture, already troubling in carbon terms, complicated when supply of natural gas became so coveted. Russia had already used its stake in Gazprom, the pipeline builder, to choke supply in response to international sanctions in 2015. That parry lasted a short time, but today Germany and the European Union need to approve operation of the new pipeline, which many would see as approving Russia's tactics.  
The reason why the European Union is going through this natural gas crisis is, in part, that  the Russian government has cut the supply of natural gas to the European Union.  The initial excuse Russia gave for reducing the supply of natural gas to Europe was that it was an unnaturally cold winter in Russia, thus causing the internal demand for gas to increase. Downstream nations also dealt with surprise bursts of cold weather and high heating demand, thus driving prices higher. All of these factors have compounded, thus increasing the price for electricity and natural gas in Europe and throughout the world. The demand for electricity has increased so rapidly that coal fired powerplants are being utilized in the European Union, after some of them had closed or downsized throughout Europe.  
Can Germany afford to let gas prices soar and supplies shrink?   
Germany has ambitious plans to become carbon neutral by 2045. Yet short of full electrification, the German economy  will continuously rely on Russia's natural gas, thus causing them to rely on a nation, whose values are not aligned with theirs. Comparable dynamics look likely to play out elsewhere in Europe, and ripple through the world.  
All this calamity can complicate discount rates for clean energy finance. As the energy crisis unravels, the United States of America will probably not go through its own energy crisis, according to an essay on OilPrice.com . The author there noted that the nation has "fairly adequate natural gas supply in storage ahead of the winter" and its "natural gas production is rising slightly, while weekly injections into storage over the past month have been higher than usual for September". This activity may reinforce the thesis, which some dispute, that natural gas' lower carbon output in comparison with coal and oil makes it valuable as a "transition fuel."  The International Energy Agency (IEA), on record for advising all remaining fossil fuels to stay in the ground, has spoken positively about natural gas in comparison to coal.   
But natural gas' carbon release cannot cohere with the true energy transition that so many states, corporations, utilities and nations have promised. Renewable energy such as solar, wind, and hydropower are currently the only non-nuclear sources of energy that do not release any discernible amount of greenhouse emissions, even when you consider the lifecycle emissions.  
Does this situation, then, motivate investment in storage and transmission for renewables? It might. Oil prices have skyrocketed to $80, which is a 121.7% increase in prices, when compared to November 2020.  The situation looks so unstable that it seems easy to read diametrically opposed analyses from experts. The desperation gripping governments, though, pairs with the distaste o of ceding market power to Russia to make serious investment in renewable infrastructure an honorable- and perhaps inescapable- strategy.  
Additionally, investors should take the current energy crisis as a sign to invest more into renewable energy and work with governments in order to reduce the regulatory burdens of deploying clean energy projects. Finally, we must continue to push for the deployment off clean energy, even if it means that our fate is interwoven with fossil fuels for decades to come.