In Brief
The United States' president promises to reshape the American economy. The legislature looks dubious. Now what? 
In this op/ed, a student with experience in advocacy spells out the case for a green industrial policy to meet the Biden Administration's goals. 
By fusing perspectives from a range of communities and deploying tools from across the government, the policy here can reset the economy as a whole.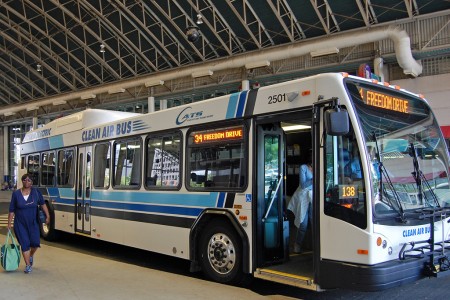 With investors and advocates looking for policy signals from the Biden administration, America faces significant pressure to take meaningful action on climate change. Under the US 2021 updated commitment to the Paris Agreement, the American economy must reduce 50-52% of its greenhouse gas emissions below 2005 levels economy-wide by 2030 and achieve 100% net zero emissions economy-wide by 2050. These goals and targets are ambitious, crosscutting, and transformational. A robust green industrial agenda can get us there. 
Ideally, legislation must precede clean energy initiatives to build durability but securing a bi-partisan pathway to address climate change appears to be a tall order. As a parallel path, the administration must pursue a green industrial policy agenda.  
Green industrial policy, a natural conduit to broad stakeholder alignment, is a strategic and intentional effort by the acting government to encourage economic growth that creates significant environmental and climate gains. In the absence of any mandatory climate policy, green industrial policies such as investment and production tax credits and loan guarantees have historically driven the exponential growth of renewable energy in the US. According to the Solar Energy Industries Association, the solar investment tax credit has resulted in the creation of more than 170,000 solar jobs and $66 billion invested nationwide since 2006. And some of the successful names under the DOE loan guarantee program include Tesla Motors, Nissan North America, NextEra Energy, who have all repaid their federal loans in full.  
Historically, the US employed industrial policy that led to significant breakthroughs. Some of the prominent examples of industrial policy include the Pentagon's Defense Advanced Research Projects Agency (DARPA), which helped create the Internet, and similar labs that seeded semiconductors. 
The green industrial policy approach can evolve as a suite of executive actions, reprioritization of the goals of federal agencies and their respective programs, and formation of a diverse coalition. The coalition can comprise leaders from business and financial industries, environmental and social justice advocates, and state and local officials. If done thoughtfully, the suite of actions that this coalition develops can result in significant outcomes to get us on a path to a net-zero emissions economy by 2050.  
Green industrial policy can take an economy-wide approach that can address goals beyond decarbonization. Its strength grows from the fact that green industrial policy encompasses potential gains for utilities, manufacturers, investors, consumers, and services. Aligning priorities and timelines that result in the swiftest decarbonization pathways is crucial and requires commitment from all stakeholders, such as the power, oil, and gas sector.  
Comparing Biden's goals with utilities' highlights where a green industrial policy can accelerate investment. For example, several utility companies have set net-zero targets by 2050. However, research by the Energy and Policy Institute shows that utilities are planning to slowly ramp up their decarbonization efforts in the next few years when they should be significantly scaling up.
Imagine aligning procurement, branding, executive orders, and the tax code toward a hydrocarbon-free transportation system.  
 Specifically, eleven utilities plan to slow down their rates of decarbonization over the 2017-2030 period compared to 2005-2017 period and only six utilities plan to accelerate decarbonization.  
One explanation offered by David Pomerantz, Executive Director of the Energy and Policy Institute is that utilities are preserving their ability to continue building gas power plants, which some see as more reliable and can recover costs through "rate-basing," or adding to customer bills.
Indeed, in a Wall Street Briefing, Edison Electric Institute's President Tom Kuhn noted that 2035 date would be an "incredibly difficult situation to handle for most of the companies in the industry" and that natural gas generation will be needed in the near future.  With a very steep target to decarbonize the power sector as perceived by the utilities, the Biden administration must simultaneously ramp up decarbonization in other sectors such as transportation and use other strategies such as building electrification. Some utility executives endorse this diversified approach, perhaps in part because it allocates burden of decarbonization equally to other sectors of the economy.
Hilary Pearson, Key Manager for Energy and Environmental Policy at Exelon Utilities notes: "In the collective pursuit of a net zero future, we can help prepare the grid for the variety of zero-emission technologies needed to reach decarbonization goals, including those associated with widespread transportation electrification." Imagine aligning procurement, branding, executive orders, and the tax code toward a hydrocarbon-free transportation system.   
That is where a green overhaul of industrial policies can kick in virtuous cycles. Rethinking the White House's approach to climate change means working to align stakeholders, adding clarity to a range of stated visions and goals, and spurring innovation to scale up the implementation of solutions. Most importantly, it requires that ensuing burdens and benefits from transitioning to a green economy are borne equally by all stakeholders.  
Many countries have utilized green industrial policies to advance clean energy sectors: consider Germany (renewable energy), China (electric mobility), and Morocco (solar and wind), Brazil (ethanol), India (solar), and additional countries are currently exploring it. Like any other government intervention, green industry policies risk being marred with performance issues. But by providing opportunities for public and private engagement, establishing clear objectives, measurable targets, and transparent monitoring and evaluation systems, green industry policy can serve as a logical pathway towards more stringent climate policies and in the meantime bring on innovation from the private sector. 
Green industrial policy can earn wide-ranging support if it demonstrates a source of jobs and economic opportunities for frontline communities and plays to the unique strengths of communities most affected by the clean energy transition. Green industrial policy, with its implicit tax and regulatory advantages as well as facilitating clear market signals, can motivate the financial sector to unlock billions of dollars needed to catapult us towards a green economy.  
Jason Bordoff, a former Obama Administration official who now runs Columbia's Climate School, has made his own argument for a green industrial policy. In March, he pointed out that the International Energy Agency projected roughly half of the cumulative emission reductions needed to achieve net-zero emissions by 2050 will need to come from technologies that are not commercially viable yet. These include carbon removal technologies, carbon capture, utilization, and storage (CCUS), hydrogen, and other approaches we cannot yet name. Ultimately, all sectors of the economy need to be decarbonized. Taking a holistic approach to decarbonization as opposed to a sector-by-sector approach can create alignment, efficiency, structural and revolutionary change, and long-term visioning – all of which are crucial for a longstanding, sustainable decarbonization strategy. As an added yet crucial benefit, it can strengthen the American economic base and improve its competitive position in the world order.   
The opportunity costs of previous failures are too large to ignore. The unsuccessful statutory efforts of the past have cost the US and the world significantly. While it may appear that stars are aligned under the current administration for meaningful climate action, one cannot get too complacent. Strategic and multi-step approach can ensure that US deploys resources and programs to take meaningful and long-term climate action. Building win-win alliances of all sectors and creative problem solving towards a shared vision will be needed to get to a zero-emissions economy.
In an ideal world, Biden's proposed infrastructure package and other policy measures will pass but we do not live in an ideal world. And while financing is a big reason for congressional action, that is not the only barrier we face against decarbonization. For meaningful climate progress, action needs to happen now. The 2020s can stand as the decade of innovation.