In Brief
A quest for justice, capital appreciation and speed defines the United States' stated mission. 
Could government incentives drive toward all those goals by scaling up hydrogen research and incentives? This author thinks so. 
In an adapted op/ed from a certificate program, an expert focuses on a new energy source.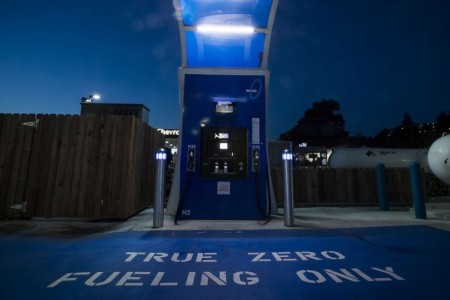 Ivana Jemelkova is a Managing Director in the Strategic Communications segment of FTI Consulting, a global business advisory firm. She has been working on clean energy issues, including hydrogen technologies, for more than a decade – first in Europe and now in the U.S. and globally. The views expressed in this article are solely those of the author.
Re: Scale up hydrogen to deliver a clean, prosperous, just energy future for America
President Biden,
You and your administration have laid out an ambitious plan for a clean energy future for America. While there is broad understanding that the nation's energy transition will take time, investment, clear policies, and a mix of solutions, there is one technology that is currently not receiving the attention that it deserves – hydrogen.
Delivering on U.S. climate and economic goals means that it is critical to act now to unleash hydrogen as part of the solution by accelerating efforts to bring it to mass-scale. Specifically, the nation needs a comprehensive strategy for a transition to a clean energy future that includes hydrogen, clearly delineating how to support supply, cut red tape, and establish the right governance to further enable the market and realize the climate and economic benefits of doing so.
The opportunity
Let's be clear about the molecule's might. Hydrogen – a key element fueling all life on Earth and a versatile energy carrier – falls short of silver-bullet status, just like every other solution that can help us achieve the energy transition. But it can help America solve some of its toughest energy transition challenges by bringing together technologies that make up the energy system and optimizing them.
This quality emerges whether industry derives hydrogen from renewable fuels or from natural gas with carbon capture technologies.
•    When made with renewables, hydrogen's lifecycle as an energy solution is fully carbon-free. A gas made of molecules, it can be stored and transported in tanks and pipelines. This means we can integrate more renewables into our system without putting additional strain on the power grid, and we can do so while leveraging a broader range of existing infrastructure.
•    Produced from natural gas with carbon capture technologies, hydrogen can offer a significantly lower lifecycle carbon footprint to industry as well. This means hydrogen can serve as a decarbonization solution across the nation and leverage the most affordable and abundant primary energy sources available locally.
•    Finally, hydrogen can be effective in areas out of reach for other technologies. It is fully complementary with battery solutions and especially suited for applications requiring heavy-duty, fast-charge, long-range capabilities, and high-grade heat (e.g., steel and cement production).
A recent study idemonstrates how hydrogen can help strengthen the U.S. economy:
•    Cleaner. Mass-deployment of hydrogen in the U.S. could eliminate up to 16% of the nations' CO2 emissions by 2050, a decisive contribution to the country's decarbonization goals.
•    More prosperous. Hydrogen could strengthen the U.S economy by generating $140 billion per year in revenue and creating 700,000 new jobs by 2030. By 2050, this could reach $750 billion per year in revenue and creating 3.4 million new jobs.
•    More secure and competitive. The U.S. has the potential to not only produce all the hydrogen it needs, American-made hydrogen could become a highly competitive low-carbon export product.
•    More equitable. In addition, by eliminating 36% of emissions of nitrogen oxides (NOx) and other pollutants by mid-century, hydrogen could significantly improve air quality – an issue that disproportionately affects low-income communities and communities of color.
The way forward
Many companies across the hydrogen value chain are today advancing hydrogen technologies to address some of America's key energy transition challenges. ii With thousands of units in operation, Vice-President Harris' home state of California is the undisputed leader among the U.S. States. However iii, America's ability to lead the broader global energy transition effort is at risk.
Over the last few months, many countries, including Germany, France, China, and Australia to name a few,  have issued comprehensive national strategies and pledged billions of dollars in financing to hydrogen. iv In contrast, much of America's action on hydrogen to date has been driven through the DOE's R&D program, a system of narrow and time-limited tax credits and individual States' programs to advance clean energy. These tools have spurred innovation and allowed companies to pilot new products. However, more needs to be done to unleash the full potential of hydrogen.
Five key steps would enable hydrogen to realize its potential.
1.    Strategy. Recognize hydrogen as a key component of your energy transition platform and draw up a comprehensive American hydrogen strategy as soon as possible. Include a proposal for a strong public-private partnership and enhanced collaboration with business. This will send a powerful signal to investors at home and world-wide.
2.    Demand. Build on efforts spearheaded by climate-forward States, v set out federal targets for adoption of zero-emission solutions in key areas such as transport (e.g. passenger cars and trucks) – accompanied by the necessary infrastructure build-up. Set up a framework for productive competition between different fuel and power-train technologies including hydrogen fuel cells as a form of electrification.
3.    Supply. Support hydrogen production with significant carbon reduction impact to more quickly achieve volumes required to bring down the cost of hydrogen.vi When it comes to renewable-based hydrogen, extend Renewable Electricity Production Tax Credits that are critical for faster build-up of large-scale electrolyzers. vii
4.    Red tape. Review existing legislation at the federal level and invite States and municipalities to do the same locally in order to uncover and remove undue administrative barriers hindering the scale up of hydrogen and create a level playing field for the technology. viii
5.    Governance. Build on the current R&D program managed by the DOE and expand its size and reach to include closer-to-market projects in direct support of your hydrogen strategy. Consider setting up a dedicated agency or office to oversee the effort and ensure effective collaboration across federal structures. 
- - -
Footnotes
i Fuel Cell and Hydrogen Energy Association. "Road Map to a US Hydrogen Economy," p.8. 2020. FCHEA. Web. 30 August 2020. <http://www.fchea.org/us-hydrogen-study>. 
ii For example, Microsoft has recently successfully tested hydrogen fuel cells for back-up power at data centers – replacing traditionally used diesel generators. Source: Roach, John. "Microsoft tests hydrogen fuel cells for backup power at datacenters". 27 July 2020. Microsoft. Web. 30 August 2020. <https://news.microsoft.com/innovation-stories/hydrogen-datacenters/>. Cummins is pursuing hydrogen to decarbonize its product portfolio. Adler, Alan. "Cummins dives into hydrogen as traditional engine business stalls" 29 July 2020. FreightWaves.com. Web. 30 August 2020. < https://www.freightwaves.com/news/cummins-dives-into-hydrogen-as-traditional-engine-business-stalls>. 
iii Hydrogen is enjoying an unprecedented momentum around the world. Dozens of governments have come forward to launch dedicated hydrogen strategies including investments worth of billions of dollars – most recently the European Union, Germany and Korea. Source: Naschert, Camilla. "'As important as oil was in the past': Hydrogen rises up the agenda in Q2". 20 August 2020. S&P Global Market Intelligence. Web. 30 August 2020. <https://www.spglobal.com/marketintelligence/en/news-insights/latest-news-headlines/as-important-as-oil-was-in-the-past-hydrogen-rises-up-the-agenda-in-q2-59931753>. 
iv Winchester, Dick. "Hydrogen is going global – fast". 6 October 2020. Energy Voice. Web. 12 October 2020. <https://www.energyvoice.com/opinion/267751/hydrogen-is-going-global-fast/>. 
v California Air Resource Board. "15 states and the District of Columbia join forces to accelerate bus and truck electrification". 14 July 2020. CARB. Web. 30 August 2020. <https://ww2.arb.ca.gov/news/15-states-and-district-columbia-join-forces-accelerate-bus-and-truck-electrification>. 
vi A recent Morgan Stanley report suggests that the cost of hydrogen from renewables could match the cost of hydrogen from fossil fuels by 2023 thanks to declining cost of renewables, especially wind. Source: Lee, Andrew, "Green hydrogen could match grey by 2023 thanks to $5/MWh wind power: Morgan Stanley". 27 July 2020. Recharge News. Web. 30 August 2020. <https://www.rechargenews.com/transition/green-hydrogen-could-match-grey-by-2023-thanks-to-5-mwh-wind-power-morgan-stanley/2-1-848266>. 
vii Electrolyzers are devices that use electricity to split water into hydrogen and oxygen. 
viii For example, hydrogen-powered cars are currently not permitted to use tunnels and bridges in the states of New York and New Jersey.