In Brief
If electric vehicles gain meaningful market share, can a variety of business models flourish for charging them?  
Potential electric vehicle buyers need confidence that their cars will find places to charge along the road. A company called Beam projects confidence in its charging solution. 
It's using an ad-dependent business model of the sort that catapulted search companies to dominate their markets - though with narrower scope.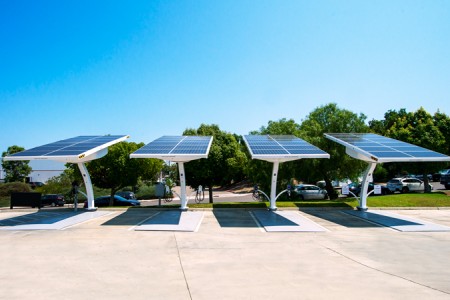 To reach net-zero emissions by 2050, the United States needs drastic increases in renewable energy, according to a Princeton University study released in December 2020. The report traces one key avenue in the expansion of electric vehicle sales from 2% of new cars sold to around 50% of new sales by 2030. The lack of widespread, efficient, and effective electric vehicle charging stations can block this target. One company tackling the expansion of electric vehicle (EV) infrastructure aims to address charging-station economics in new ways. 
Beam Global
Eschewing connection to the electrical grid in favor of individual, solar-powered charging stations, Beam Global assumes the initial costs related to the charging stations' manufacturing and looks to make profit off of corporate sponsorships. Beam has piloted this approach in San Diego, with plans for further national expansion. In turn, these sponsors receive the right to feature their name and brand on charging stations.
In other words, to Beam, the monetization of this charging network comes not from the sale of electrons but rather from naming rights. These rights typically last 5 years, plus an additional option to renew. In addition to revenues derived from the direct sale of manufactured products, Beam may also earn revenue on maintenance fees.
Assuming a steady flow of demand for sponsorship rights, where does this model lower drivers' costs? Beam's products, comprising a set of solar panels atop a supporting beam configured to the shape of a desktop lamp, rely primarily on the harvesting of energy from the sun. Installation thus does not require navigating much of the construction, engineering, or permitting typically associated with EV charging stations. Instead, Beam's charging stations are assembled in advance, erected on a vehicle lot in a matter of minutes, and "fit inside a parking space . . . [without] reducing available parking," says Desmond Wheatley, the Global CEO of Beam, in an interview. With low on-site deployment costs or ongoing utility bills, Wheatley claims, the main financial costs associated with this mode of EV infrastructure financing are the amortization of the equipment itself, operation & maintenance (O&M) expenses, and insurance-related considerations.
The charging stations' storage enables Beam to market itself as reliable for the life of this generation of EVs. "We don't guarantee" an inexhaustible energy source, "but with the right scale of Beam equipment deployed, you will never run out of power," said Wheatley. In other words, though each station is individually exhaustible, Wheatley claims that the combination of many stations in close proximity renders energy shortages rare: Beam works with clients (e.g. fleets) to project energy needs based on required daily mileage estimates and derive a recommendation for the amount of charging units needed. "For every 100 products we have out in the field, 95% of our products generate and store more electricity than they are called upon to deliver today," Wheatley added.
In addition to seeking fleet and workplace clients, Beam has recently struck a deal with the City of San Diego to install 50 off-grid EV charging stations. The idea moves the city slightly toward its Climate Action Plan and gives drivers free access to electric charging stations. Still, the success of these partnerships relies on the procurement of a corporate sponsor, a process that Beam maintains a non-contractually obligated period of 18 months to fulfill in the San Diego case. However, Wheatley added that they "are careful not to target cities unless [Beam] feels, in advance, that they will be attractive to sponsors:" Beam, he claims, is currently in negotiations with several sponsors for the San Diego partnership. To choose one, Beam works with experts in the field of sponsorship sales and naming rights to advise on appropriate naming environments.
Sponsorship figures to appeal to brand managers if Beam gets more chargers installed in more places.  Operating in part off-grid, Wheatley believes, will become increasingly salient in light of the recent power failures in Texas, which exposed the vulnerabilities of relying on a centralized grid system. With their distributed approach, says Wheatley, Beam's technology can operate, "even when nothing else is," withstanding "hurricanes in the Caribbean, continu[ing] to operate in the midwest during the coldest spills of winter, and similarly operating in the hottest deserts in Nevada during the middle of the summer."
This set of claims, in conjunction with the Biden administration's attention to transportation infrastructure more generally,  "are all very good news" for the overall competitive landscape in the EV infrastructure industry, said Wheatley. Beam projects a significant increase in demand throughout the second half of 2021 and expects to increase their ~$17 million dollars of annual production to around $114 million in the near future. Beam qualifying for a federal GSA contract towards the end of 2020, which facilitates direct links with federal buyers, has further galvanized Wheatley's optimism around revenue and demand going forward. With this additional financing and to accompany this drastic ramp-up, Beam may have to "hire more people . . . add levels of automation to our manufacturing process . . . and leverage contract manufacturing for some of our components" said Wheatley. 
The company is projecting a tenfold increase in annual production in the next few years.
As things stand, the maximum production capacity of a Beam factory is on the order of 2200 units per year. However, the ~20 million cars on California's roads today signals a need for "several million more chargers in California over the next few decades," claimed Wheatley. Though he does not imagine a monopoly in California, Wheatley notes that upon crossing this threshold of 2200 units per factor, Beam will look towards opening 6 or 7 more factories solely to address growing demand and capture a sliver of what Goldman Sachs projects to be a $6 trillion dollar infrastructure build-out.
Challenges to Expansion
While there is certainly much cause for hope regarding the financing of EV infrastructure, several obstacles impede the road ahead. For instance, "one of the challenges with this market is to continue to make sure that the community driving these vehicles has the education and knowledge of the benefits of electrification, as well as access to both the charging infrastructure and vehicles," said Anne Smart, Vice President of Public Policy at ChargePoint, in an interview with the CEFF. "Not every state has every type of electric vehicle available at its local dealership and not every community has the same access to information, so one of the things that we're working on is coordinating with local environmental groups and student organizations to ensure that we're helping provide an education and that we're partnering where possible to roll out charging infrastructure in places that need it the most," added Smart.
Wheatley points to a second key challenge: the lack of capacity in the United States power grid to support widespread electrification of transportation. With Elon Musk projecting an EV-dominant society to consume double the world's current levels of electricity consumption, Wheatley cautions that "to build sufficient power stations, transmission infrastructure, and distribution infrastructure will take decades, if it ever happens." Moreover, "traditional grid-type EV chargers are going to take longer and cost more to deploy as time goes on . . . [and] the low-hanging fruit is being plucked," conjectures Wheatley. For instance, as EV continues to develop, viable station locations proximal to existing circuits may quickly become occupied. When this occurs, "you will need to extend the grid further and further . . . [with] bigger and bigger electrical projects," says Wheatley.
A third common pitfall of EV charging stations is their oft-exclusive nature: Tesla's network of "Superchargers" are available only to owners of Tesla vehicles, and companies in the EV infrastructure space often require customers to first create an account with that company before they're able to pay for energy, an extra step that can limit the availability of charging options for drivers. To navigate this issue, ChargePoint has "worked out roaming agreements with a number of other charging networks, which enables someone who has, for example, an 'EZ GO' card to charge on a ChargePoint system, or vice versa. We feel strongly that roaming is a great way for the industry to support each other and make it easier for customers to charge," said Smart.
Policies for Expansion: Existing and New
For policymakers seeking to cultivate EV infrastructure expansion, Smart points to the California Air Resources Board's recent adoption of the world's first zero-emission truck mandate (the "Advanced Clean Trucks" rule) as a promising model for replication. "While mandates have political pros and cons, one of the things that this type of state policy does is provide some clear guidance to our customers and fleet operators in understanding when vehicles will be available to them . . . and how to start planning for those charging infrastructure," said Smart. "It also allows us to work closely with utilities to make sure that the available electricity . . . is going to be available when it's needed," she added. Setting clear state requirements and timelines for electrification, it seems, is paramount for providing clarity and certainty for customers.
Other existing policies that Smart noted to be particularly useful for EV expansion – and that have most recently been adopted in North Carolina and New Jersey –  remove charging stations from "public utility" status under the law, thereby enabling operators of charging stations to re-sell electricity. This means that "if you own a charging station, you can set a per kilowatt-hour price to the driver. That can really help allow operators of charging stations, our customers, and our competitors' customers to design charging solutions in ways that comport with their drivers" and set pricing policies that are going to encourage use, said Smart.
Going forward, both Wheatley and Smart see potential for positive legislative impacts in fleets. "There's a huge opportunity in fleet charging right now," said Wheatley. When a fleet sets a goal to convert to electrification, said Wheatley, "they're converting an exponential number of chargers and vehicles." Should governments continue to set mandates for converting fleets, "adoption will happen at a lot faster of a rate," he said. This, Wheatley continued, will revolutionize the effort to deploy EV charging stations at and along depots, fixed fleet travel routes, and transportation corridors.
Already, Transportation Secretary Pete Buttigieg has expressed support for the restoration of EV tax credits and implementation of 500,000 new public charging outlets by 2030 as part of a plan to "put millions of new electric vehicles on America's roads." Should such a plan succeed in creating a consumer-centric electric vehicle market, the adoption of widespread EV infrastructure, claims Wheatley, would only be a matter of time: "consumers are notoriously impatient . . . when they get new toys, they want to play with them, and if you want to play with electric vehicles, you need charging infrastructure," said Wheatley. Time will tell whether consumers will truly behave as capriciously as Wheatley believes and which companies, amongst a wide slate of well-capitalized competition, might stand to benefit in this event.