In Brief
Clean heating and cooling can decrease fossil-fuel output inside homes, across a range of incomes and densities and building types. The Renewable Thermal Alliance, a consortium in which we proudly participate, will soon spotlight $15,000 grants to promising players in this space. 
The awardees work from the Northeast to North Dakota, Texas to California. In a pair of April webinars, they'll share their strategy on coding, marketing, messaging and engineering these in-home clean innovations. 
The Alliance, pooling strengths from government, academia and research, serves to clarify best practices and new practices at a range of scales. The April webinars show how clean heating and cooling can grow within the home at a time when many of us are working from home.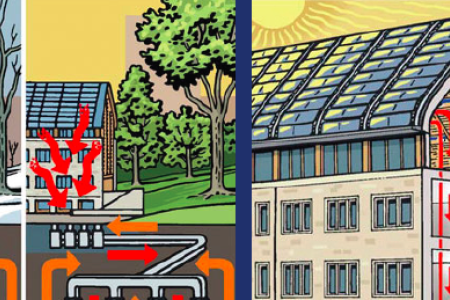 As most of us grow more intimate with the walls of our homes, the Renewable Thermal Alliance (RTA) offers views on updates to a clean-energy source six feet from where most of us sit. A public-private partnership initiated by New York State Energy Research Development Authority (NYSERDA), the Connecticut , and Yale University, the RTA serves more than 300 individual stakeholders throughout the United States. The Alliance recently announced its 2019 Innovation Grant recipients. Each one earned $15,000 to work on ways to make heat pumps and other renewable sources of heat more popular. Two webinars in April showcase what they've done and what they'll do next. 
They also showcase a growing practice. The RTA pushes past research, working to develop the infrastructure for large-scale deployment of renewable thermal technologies (RTTs), which spur people to switch to clean heat in their homes and businesses. As this infrastructure becomes more visible and logical to more people, its applications can send greenhouse gas levels plummeting.
The awardees who'll debut in the webinars show routes to clean energy through different kinds of homes. Get to know a few of them here:

Renewable Heating and Cooling Cost-Carbon Calculator
Clean Energy States Alliance
The Clean Energy States Alliance (CESA) and a regional team of state energy offices, utilities, and other partners are working on an energy and carbon savings calculator for clean heating and cooling technologies. This tool, still under development, presents a common, regional platform for homeowners to compare clean technologies against traditional heating fuels (including electric heaters) in the harsh-winter-hot-summer reaches of Connecticut, Massachusetts and New York. As they develop the tool, experts look forward to sharing its framework and possible outputs for a variety of scenarios in participating states.

Electri-Casa: Digital Roadmap to an Electric House
Greenbanc LLC
This certified B corporation is building a mobile app for homeowners that simplifies research by using uploaded photos to provide a home energy efficiency rating, the age of existing equipment, and electrification options. Users feed these data into the algorithm to get actionable quotes from qualified installers of renewable thermal technologies. People who download the app can stay in touch with experts regarding optimal replacement dates, changes in rebates and special marketing offers from contractors.

High-efficiency and Low-cost Heat Pump System Design
North Dakota State University
Ground Source Heat Pumps (GSHPs) draw their heat from the earth rather than from burning fossil fuel. This positions them as potential replacements for fossil-fueled applications, especially space heating. The University's Department of Construction Management and Engineering proposes to develop a high-efficiency multi-source heat pump system at low cost, through inexpensive air source heat exchangers (such as a dry fluid cooler) as one source for the heat pump system. It will also look at using shorter underground loops.

Texas Ambassador Program For Renewable Thermal Technology In Affordable Housing
Texas Energy Poverty Research Institute (TEPRI)
The Texas Energy Poverty Research Institute will speed adoption of renewable thermal technologies (RTTs) in affordable housing. The team will set up a multi-disciplinary ambassador program to engage affordable housing developers, local leadership, climate and public health stakeholders on pilots and promotions to demonstrate the value of renewable thermal technologies in affordable residential buildings. As it scales from a pilot in Houston, this network can spread energy equity and ensure the financial and environmental benefits of RTTs to flow to low-income communities.

The RTA will host two free webinars to introduce the grant projects. The first happens April 9 at 11:00 AM ET, here. Another will follow a week later here.