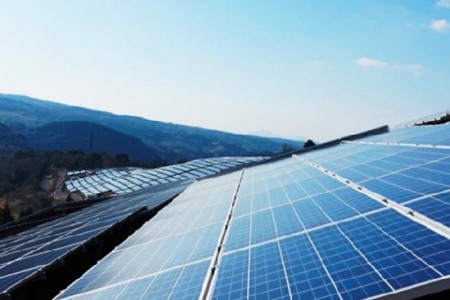 With so much happening at a state level in solar power and energy efficiency, it is difficult to keep up with the variety of approaches and perspectives. So the Yale Center for Business and the Environment is here to help by launching "States of Clean Energy Innovation," an online news hub with customized clean energy data and stories about the United States and Puerto Rico.
Each state is different. Each state has thoughtful leaders working on our transition to clean energy. And each state deserves its own dashboard. 
On each state page, you will find interviews and features. You'll see visualizations and data on energy incentives, public opinion, market conditions, innovation hubs, regulatory policies, available jobs, and much more.   
From the ambition of 100-percent-renewable energy in California… to the (REV) process in New York… to innovative financing models like Michigan Saves… to the economic-diversity focus of solar in South Carolina… to the wind belt from Texas to Minnesota… we currently have over 50 distinct experiments in how to accelerate, shape or stall the profound ongoing transformation of our energy system.
At first blush, many may see this transformation as being primarily driven by recent advancements in technology, better access to capital, and a variety of creative new business models.
However, a closer look indicates that at a state level, there is an incredible range of approaches driving the rate and scale of clean energy deployment.  We see myriad state-level approaches to clean energy development, finance and policy as a process of innovation.
When asked why he had such a large team of collaborators in his lab, Thomas Edison responded, "If I could solve all the problems myself, I would." The inventor of the phonograph machine, the motion picture, and the electric grid was quick to recognize the necessity of working on a team with different abilities and skills.
Apply a variety of smart perspectives and creative approaches to a complex problem and you are far more likely to identify a transformative solution.
To develop this news hub, we looked through resources from leading organizations that report, visualize and detail the development of state energy markets. We have curated a selection of high-quality maps and research.
This year, we have published spotlight articles on innovations from states that are reported on infrequently. We will also host some webinars that highlight them. 
Over the summer, we took a deeper dive into the remarkable progress and innovation happening in our home state of Connecticut, where the green bank movement has taken root. This is just one of many approaches.
There is a wide range in the depth and breadth of activity and investment at a state level. But what seems universal is the public's support for policies that underpin healthy, clean and advanced technology – and the financial market's interest in investing in these innovations.
Additionally, across the country, utilities of all types are feeling an increased pressure to deliver more value to their customers and experiment with new technology. They see the need to reinvent the electric-power system – "the greatest machine of the 20th Century" – to adapt to the seismic advances in technology and business models that we are seeing. 
We hope that this resource lends insight into your own state's approach to clean energy. You can draw new ideas from states halfway across the country or just across the state line.
---
About Clean Energy Finance Forum
States of Clean Energy Innovation is a project of Clean Energy Finance Forum, a website that advances the growth of energy efficiency finance and solar-energy finance by providing high-quality news, events and dialogue. We produce insightful, analytical news articles and research explainers showing the trends and challenges at the leading edges of these fields. We are experimenting with the latest innovations in online media, environmental journalism, and visual communication. Our team at Yale University is using a solutions journalism approach to producing cutting-edge business news.
Join our LinkedIn group to discuss this article. You may also email the author directly using our contact form.