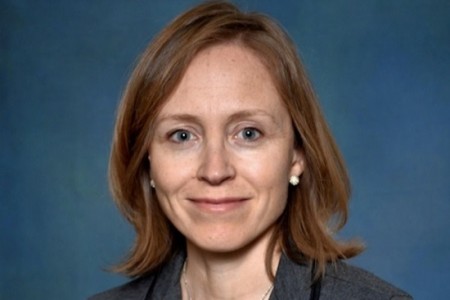 While wind power is a well-established energy priority in Kansas, the same cannot be said for solar energy or energy efficiency. In this interview, Uma Outka, professor at University of Kansas School of Law, said that political leadership is the missing link in bringing these two goals to the table in her state.
CEFF: How would you describe the solar-energy market's current successes and challenges in Kansas?
Outka: The solar-energy market is still in its infancy in Kansas.
To date, there are no large utility-scale solar facilities in the state. There are a couple of community solar projects. Solar companies are working to install distributed solar systems across the state. A 20-MW solar farm will be operational in 2019.  Currently, however, solar only accounts for .01 percent of electricity generated in Kansas.
For renewable energy advocates, this slow rate of growth for solar is frustrating, given the success of wind energy development in Kansas. Wind now accounts for 36 percent of the electricity generated in the state. This makes Kansas a very close second to Iowa for the percentage of electricity from wind. Iowa generates 36.9 percent. It has over 5,000 MW of installed capacity.
Although the wind resource is especially strong in Kansas, the solar resource is also very strong, especially in western and central Kansas. It is certainly much stronger than the current state of the solar market would suggest.
Given the falling price of solar PV over the last five years, there is no technical reason why solar energy should not be a growing and thriving industry in Kansas.
With the right laws and policies in place, Kansas could begin to advance solar energy and foster job growth across the state.
At present, however, the industry is getting mixed messages at best from Kansas — not the strong policy foundation and clear vote of support needed to accelerate solar energy development in the state.
The legislature's 2015 repeal of the Kansas Renewable Energy Standard was discouraging, though it was largely symbolic. The state was already on its way to surpassing the 20-percent goal well in advance of the 2020 deadline.
Although the wind industry had matured enough by then to be mostly unaffected, the repeal certainly did not help draw solar developers to the state.
More recently, the Kansas Commission (KCC) authorized Kansas utilities to impose surcharges on distributed solar customers. This is a move that threatens to stifle the state's still-nascent solar industry.
This is unfortunate, in my view, especially at a time when other states are finding creative ways to increase access to low-cost solar energy in disadvantaged communities.
Advocates in the state, such as the Kansas-based Climate + Energy Project, continue to work to educate policymakers and the public about solar energy's potential for Kansas.
CEFF: What is your perspective on the energy efficiency market's successes and challenges at this time in Kansas?
Outka: Much like solar energy, energy efficiency has tremendous potential in Kansas to curb emissions, reduce household energy costs, and foster job growth – if law and policy reforms would support it.
is well known now to be a cheaper energy resource than new electricity supply, so the benefits of increasing energy efficiency in Kansas are fairly straightforward.
For some time, though, Kansas has ranked 48th nationwide for energy efficiency on American Council for an Energy-Efficient Economy's state-by-state scorecard – below states like Alabama, Louisiana, Mississippi, and West Virginia, for example.
None of these states are stand-out leaders in low-carbon energy the way Kansas is with wind.
Although there are a number of initiatives that do focus on energy efficiency in Kansas, the state is far behind other states in this area, which is now ripe for policy leadership.
Unlike many states, for example, Kansas does not have an Energy Efficiency Resource Standard. Building energy codes are weak in contrast to other states.
Integrated resource planning (IRP), which is mandatory in many states, can provide a framework for considering energy efficiency as an energy resource. But IRP is not yet required in Kansas. Utilities do their own traditional planning, although more may be expected soon following this year's merger between Westar and Great Plains Energy.
The state legislature and public utility commission have yet to engage newer approaches to ratemaking designed to account for energy efficiency benefits and reduce disincentives utilities face when considering efficiency measures.
Energy efficiency is presently an underutilized mechanism for reducing energy burden on low-income households, so new leadership on this issue could bring welcome cost-savings to many Kansans.
CEFF: What stakeholder decisions would catalyze forward movement in these two markets in Kansas?
Outka: Solar energy and energy efficiency in Kansas need strong leadership at the state level – ideally, in the legislature and the governor's office.
With a gubernatorial election upcoming this November, it will be interesting to see whether these issues can gain new traction in the policy discourse.
Right now, critical energy policy issues – in the area of distributed solar and energy efficiency in particular – are being addressed in utility-commission proceedings, where a utility-centered framing tends to be the starting point for consideration.
Generally speaking, broader public policy goals tend to get less attention and public engagement in utility-commission proceedings than they can in the legislative context or with executive leadership.
Recent administrative rulings by the KCC have opened the door to solar surcharges and rejected new energy efficiency measures. These were missed opportunities, in my view, to align Kansas energy policy with modern trends.
But utility commissions are only one piece of a state's energy-governance infrastructure. Policymakers in Kansas are in a position to strengthen the state's national reputation as a clean energy leader through solar power and energy efficiency reforms.
This is a dynamic time for energy policy innovation and transition across many states. State leaders can enhance the Kansas energy sector with clearer legislative guidance to the KCC and concrete policy support for solar development.
Note: Emma McDonald contributed research to this article.
Join our LinkedIn group to discuss this article. You may also email the author directly using our contact form.