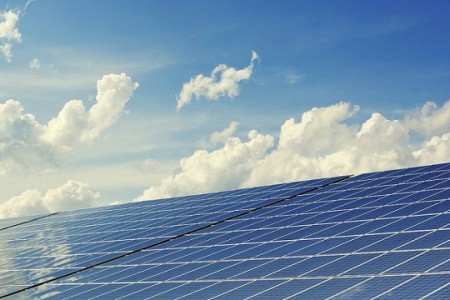 A secure and responsible energy future relies on innovation. Technological innovation is needed to help increase energy efficiency and advance the energy economy. "De-risking" new energy technologies is a critical step in bringing innovation to market. And this is a step directly addressed by the U.S. Department of Energy's (DOE) Innovative Technology Loan Guarantee Program.
Financing these new and innovative energy projects is often difficult. This is often because investors are hesitant to accept risk for projects that rely on unproven technologies. Ensuring that innovative technologies secure adequate funding is the focus of the program.
The program is designed to foster the rapid deployment of renewable energy and electricity transmission projects by helping to ensure that there is a "reasonable prospect of repayment" of the financial obligations by the developer or borrower. The program was created under Title 17 of the 2005 Energy Policy Act. It is managed by the DOE's Loan Programs Office. 
A loan guarantee is a contractual requirement that is designed to help facilitate loans for projects that are innovative, new and/or unproven. When the government provides a loan guarantee, it becomes obligated to repay the borrower's debt if the borrower defaults. This obligation removes much for the financial risk for the lender because they are guaranteed a payback.
Loan-guarantee programs can be tremendous assets for the deployment of technologies that struggle to secure funding in commercial or private markets.  The DOE program has closed an estimated $16 billion in loan guarantees and committed an additional $10 billion.
Now that this program has completed more than a decade of funding new energy technologies, CEFF interviewed John Sneed, executive director of the Loan Programs Office at the DOE, to review the program's progress and discuss its next steps.
CEFF: Can you discuss some of the projects that have benefited from the Title 17 program?
Sneed: The Title 17 Innovative Energy Projects Loan Guarantee Program was created to fill the gap in financing for the first commercial-scale deployments of  new technologies. To date, the program has financed 24 projects, many of which are first-of-a-kind projects in the United States, among the largest in the world, or catalytic for domestic industries.
Some examples across a variety of energy sectors include:
The first five photovoltaic (PV) solar power projects larger than 100 MW in the United States
The first new nuclear reactors to begin construction in the United States in 30 years, which are currently underway at Plant Vogtle in Georgia
Four wind farms across the country from Hawaii to Maine, including one of the world's largest onshore wind farms
The world's largest concentrating solar power (CSP) plant, which Title 16 helped finance at the time it was completed
The first CSP power-tower technology to incorporate thermal-energy storage 
Revitalized geothermal power with projects in Nevada and Oregon
A conditional commitment to guarantee a loan to construct the world's first methanol production facility to employ carbon capture technology in Louisiana
After those first five PV projects, at least 45 projects of that scale have been financed in the United States without DOE loan guarantees.
The captured carbon would be used for enhanced oil recovery (EOR) in Texas. This project would represent the program's first advanced fossil-energy loan guarantee.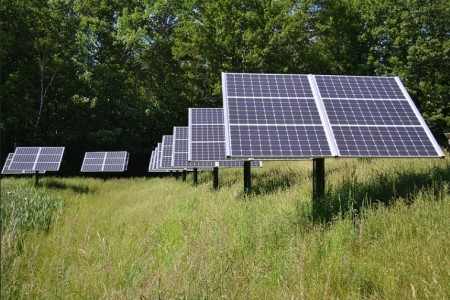 CEFF: What are some of the main benefits of the program?
Sneed: Commercial lenders are often unwilling or unable to take on the risk of supporting the deployment of a new technology until it has a solid history of commercial operation. As a result, the initial commercial deployment of new energy technology is often limited by a project developer's inability to secure sufficient long-term debt financing to build the project.
Title 17 was established to fill this critical role in the marketplace by financing the first deployments of a new technology to bridge the gap for commercial lenders.
Once the technology is proven at commercial scale through the first few projects, it becomes derisked, the commercial market takes over, and the department stops providing financing. That is what happened in the utility-scale PV sector.
CEFF: What are the observable results of the program thus far? Is the program meeting its stated goals and objectives?
Sneed: The Title 17 Innovative Energy Loan Guarantee Program has:
Helped deploy advanced nuclear, PV solar, CSP, wind, geothermal, bioenergy, energy storage, and transmission projects
Prevented 24 million metric tons of carbon dioxide emissions, which is equivalent to taking 5 million cars off the road
Deployed projects in 10 states that have generated more than 48,000 gigawatt-hours of electricity
Leveraged nearly $50 billion in total project investment
Supported approximately 20,000 jobs in the United States
Our office finances innovation, which carries some degree of financial risk. Thanks to rigorous due diligence and proactive portfolio management, our office's portfolio compares favorably to private financing of conventional energy projects in the United States while protecting taxpayer interests.
The department's overall portfolio, including the Advanced Technology Vehicles Manufacturing (ATVM) loan program, has incurred losses of only three percent of total disbursements.
CEFF: Have there been any challenges?
Sneed: One of the biggest challenges we have faced is awareness. Because of the limited time the Section 1705 program operated between 2009 and 2011, many project developers thought the Title 17 program was exclusive to renewable technologies or was shut down when the Section 1705 program ended.
But this is truly an all-of-the-above energy program, with $12.5 billion in loan guarantees available for advanced nuclear energy projects, $8.5 billion available for advanced fossil energy projects, and $4.5 billion available for renewable energy and efficient energy projects.
Another awareness challenge is making project developers aware that this is not a one-size-fits-all government program.
We are here to work in close partnership with borrowers, have the flexibility to work with the deals that borrowers bring to us, and have the experience to structure deals that best fit the needs of both lenders and borrowers.
CEFF: What changes or revisions do you hope to see in the program moving forward?
Sneed: Looking ahead, I think the program will be financing high-impact energy-infrastructure projects that will create a truly all-of-the-above energy portfolio. And we want to let stakeholders know that this office is an energy-infrastructure-lending group.
Join our LinkedIn group to discuss this article. You may also email the author directly using our contact form.