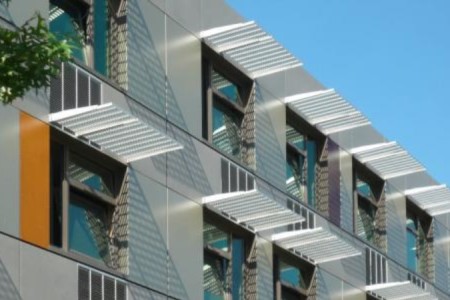 Climate resilience retrofits for affordable multifamily housing are critical to the survival of apartment residents. Jim Newman, principal of Linnean Solutions, said in a workshop at BuildingEnergy 15 on March 4 in Boston that "a lot of people are going to be sheltering in place."
Of the housing that was in the flood zone affected by Hurricane Sandy, 80 percent was affordable, Newman said. "That's an outrageous percentage."
This pattern of building affordable housing in low-lying areas occurs because it "is built in land that is left over because it's cheap," Newman said.
New York City was sued after Tropical Storm Irene for violating the Americans with Disabilities Act by not providing a means for people with disabilities to evacuate their apartment buildings during the emergency.
How can developers engineer solutions to this urgent public health problem? In the United States, a few organizations are beginning to tackle the financial and technical challenges of retrofitting multifamily affordable housing for climate resilience.
"We see this emerging area of growth in things like resilient power as an extension of what's been going on for 15 years," said Tom Osdoba, vice president of green initiatives at Enterprise Community Partners, in a webinar on Jan. 30 titled "New Initiatives in Community Resilient Power." The webinar was hosted by Clean Energy Group.
"This conversation starts to open up a range of opportunities to organize capital, provide programmatic support, and support project development. We see a real opportunity to bring capital into communities," Osdoba said.
Securing
According to a report by Clean Energy Group, "Clean Energy for Resilient Communities: Expanding Solar Generation in Baltimore's Low‐Income Neighborhoods," many financing tools are available for funding resilience for affordable housing.
Nonprofit-issued bonds, tax-exempt bonds for affordable housing, new market tax credits for economically depressed areas, solar tax credits, solar renewable energy credits (SRECs), credit enhancements, and solar power purchase agreements (PPAs) can all be helpful.
"We're trying to invent an industry here," said Jeff Greenberger, COO of Affordable Community Energy (ACE).
ACE has developed a systematic approach to funding clean energy retrofits for this market. Greenberger said ACE is working toward including resilience technologies in upcoming projects.
ACE is interested in expanding its work nationally. It plans to focus on states with high energy costs.
"We use a portfolio approach which allows us to stack certain financial tools," Greenberger said.
On average, ACE is able to leverage public and private financing sources to fund 70 percent of each of its clean energy retrofit projects, which are usually in the $5-$10 million range. The funding comes from tax credits, incentives from states and utilities, new market tax credits, and in-kind grants.
ACE pays for the remaining 30 percent of the cost of each project, taking on all of the risk associated with that investment, Greenberger said. This means the retrofits do not affect the building owners' balance sheets. ACE shares the profits from the retrofits with the building owners. After 10 years, all of the profits go to the building owners.
The capital stack for affordable housing is very complex. Any attempt to subordinate those levels or borrow money for retrofits is very complicated, Greenberger said.
"It's a rabbit hole" applying for new market tax credits, Greenberger said. "It's kind of an Alice in Wonderland." But the benefits are substantial – the credits can cover up to 20 percent of project costs.
ACE is starting to consider including some climate resilience features in the packages it offers to affordable housing owners, Greenberger said. The company is discussing its options with Clean Energy Group, a nonprofit that has been very active in promoting climate resilience.
"We've always been interested in having storage," Greenberger said. "We're beginning to explore the various alternatives that are out there for batteries."
Greenberger said storage batteries can provide financial benefits, since utilities can use them to regulate the frequency of the power they provide. Reimbursements from utilities for this service can be as high as 10 times the ordinary cost of electricity, Greenberger said. Utilities can also use batteries to manage their peak load performance.
"It won't be long before we do put a battery in place. It's something we'd love to do," Greenberger said.
Retooling Buildings
Other companies are exploring their options as well.
According to webinar presenter Rob Sanders, senior finance director at Clean Energy Group, Bright Power designed resilience features for the Via Verde affordable apartment complex in New York City. Both solar power and energy storage have been included. Charging equipment is the basement in a telecom room. The project includes a 140-kW natural gas-fired emergency generator. Solar and storage equipment supply power to the backup generator.
"How do we give power to people who need it most? We tend to think of five years or less for paybacks," said Henry Misas, senior project engineer and solar specialist at Bright Power, during a workshop at BuildingEnergy 15. "10 years? Forget it. It has to have a financial return."
A similar project that is currently being designed for Channel Square Apartments in Washington, DC includes water conservation, lighting, wind power, battery storage, and solar power. The retrofit will include both photovoltaic panels and solar thermal equipment.
"The battery comes in a large cargo container," said webinar presenter Jared Lang, sustainable development manager at National Housing Trust, which is supporting this project. The developers are trying to figure out where to place the battery – and how to integrate the generator. Engineering all of the details of the retrofit has been "a little challenging."
"We're really going to have to figure out how to put the battery design into the solar design," Lang said. "This is new for us."
"We're going through a similar exercise in Chicago with an historic public housing site," Osdoba said. There are over 1000 new units, 30 percent of which will be affordable. Developers are considering shared heating and cooling, district heating, community solar, and storm water management.
Both financing and technical assistance are essential for resilience projects, Sanders said. Clean Energy Group has set up a small resilient power technical assistance fund which is available to assisted living and low-income multifamily retrofit developers.
"These issues rapidly become highly technical," Newman said. For example, elevating key mechanical and electrical components can be quite challenging in some buildings.
Newman is coauthoring a manual with 20 recommended strategies for resilience retrofits.
Photo credit: Via Verde website
Note: The author is affiliated with Northeast Sustainable Energy Association, which organized BuildingEnergy 15.
Join our LinkedIn group to discuss this article. You may also email the author directly using our contact form.