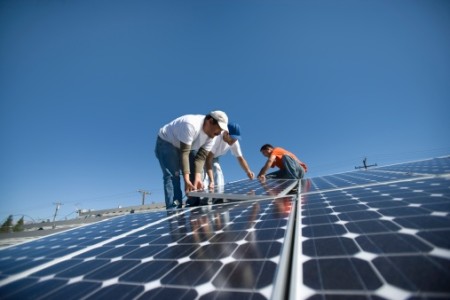 The phrase 'low-income' rarely appears in solar energy press coverage in the United States. But some enterprising organizations have set their sights on expanding the market for residential solar photovoltaics to include low-to-moderate-income communities.
Three approaches – group discount programs, affordable leases, and community solar installations – are making solar power available to these communities in some states.
While group discount programs and affordable leases are designed for homeowners, community solar installations also include renters and property owners whose homes are not suitable for solar panels.
The barriers that currently prevent solar power from reaching some low-income communities include requirements related to home ownership and credit scores.
Bob Wall, associate director of outreach at Connecticut's Clean Energy Finance and Investment Authority (CEFIA), said he recommends that other solar programs expand their reach within low-income communities by driving down soft costs and streamlining the permitting process.
"This subject has been a challenge historically for CEFIA because we were restricted to working with renewable energy systems at a time when it was very early in the market development and the cost was prohibitive for many residents," Wall said.
Group Discount Programs
A group discount program called Solarize, pioneered in Oregon, has expanded nationwide. The Solarize model leverages the power of social norms. If people see their neighbors are buying solar panels and offering to help them do the same, they become interested in joining in.
"Our job is to get people to buy this the way they buy McDonald's hamburgers, the way they buy Coca-Cola," said Brian Keane, president of SmartPower, in a video interview with Green Talk. "When Coca-Cola first came out, that was a door-to-door campaign."
"One does not market to a low-income person in dramatically different words and phrases than to a wealthy person," Keane said in a second interview.
SmartPower is marketing Solarize programs in Connecticut and elsewhere in New England. When community leaders decide to participate in a Solarize program, people who already have solar power spearhead the marketing effort. And people who are interested in purchasing solar encourage their neighbors to sign up. As more people join the program, the cost of an individual installation drops.
"The Solarize program selects a single installer for a single community. That installer offers tiered pricing so that the price drops for all participants," Wall said.
"The magic sauce," Keane said, "is really talking peer-to-peer, friend-to-friend, neighbor-to-neighbor."
In Arizona, SmartPower used the slogan "Solar Makes Sense" because it is open to interpretation, Keane said. He said he wants people who don't identify as environmentalists to be able to link solar power to their own values and priorities.
These values can vary widely. For some people, owning a new gadget is attractive. For others, becoming independent from their electric utilities is appealing. The prospect of saving money can also motivate solar purchasing.
CEFIA and SmartPower are partnering with academics at Yale University and New York University as part of an effort to evaluate the performance of New England's Solarize programs. The researchers – Ken Gillingham and Brian Bollinger – plan to analyze similar programs throughout most of New England.
CEFIA has brought Solarize programs to three low-income communities, Wall said: Bridgeport, West Haven and Windham.
"We've run into some challenges," Wall said. "In Bridgeport, a very significant portion of the stock was rental. We had to confront very real issues of affordability and eligibility. Because of those challenges, the effectiveness was not as great as we experienced in other towns."
Even after CEFIA lowered allowable credit scores to a minimum of 640, credit score requirements have been a barrier for many low-income families. There have also been limits placed on including multifamily housing, Wall said. This occurred because large multi-tenant buildings that are not owner-occupied are classified as commercial in Connecticut.
Affordable Leases
A solar leasing company called PosiGen, which developed its model in Louisiana, is now expanding its work to New York and elsewhere in New England.
PosiGen focuses on low-to-middle-income homeowners, leveraging incentives and negotiating with banks to provide favorable leasing terms. PosiGen takes a whole-home approach that includes both renewable energy and energy efficiency.
Ben Healey, senior manager of clean energy finance at CEFIA, is exploring the possibilities of bringing PosiGen to Connecticut. "They have a model that we really like and we hope that they'll be very successful here."
"The model they've adopted in Louisiana is to offer a solar lease product with no credit check at all, with a guarantee of a certain percentage of energy savings," Healey said.
Healey said PosiGen takes a proactive approach to reducing costs. This tactic involves contacting banks and suggesting that a lower cost of capital is appropriate.
Banks are given points by their regulators when they participate in community redevelopment projects. This qualifies PosiGen's solar leasing to receive special consideration from banks.
PosiGen's approach has had a very high success rate, Healey said. In Louisiana, over 400 systems have been installed per month. In contrast, Connecticut only has 1500 to 1600 solar systems installed per year currently.
CEFIA is moving forward with plans to partner with PosiGen. "Until they meet up with a tax equity investor focused on the Northeast, we expect them to use our solar lease fund," Healey said.
PosiGen also leverages tax credits when they are available.
"Under the current federal credits," Healey said, "It's still fair to say that the third-party ownership model for low-income homeowners still creates tremendous opportunity." He said creating a third-party vehicle can allow programs to offer solar where it would not otherwise be available.
Community Solar Installations
Homes that are not at the right angle or are shaded by trees may not be suitable for solar power. Also, apartment residents may not have access to roof space. "80 percent of the people who want solar can't get it," Keane said.
In these situations, a community solar installation can fill the gap, providing an affordable alternative.
Community-owned solar arrays address this unmet need. According to Joy Hughes, founder of SolarGardens.org, the first community solar installation took place in Davis, Calif., in 2001. Since then, this strategy has spread across the United States.
Community solar installations typically offer local residents the option of buying into solar power that is produced by a large array of solar panels. In some parts of the United States, local legislation does not allow construction of community solar projects, so that limits their growth.
"There have been discussions about doing community solar in Connecticut," Wall said. "This would allow people to participate whether or not they have a viable and eligible space. It's not allowed in the majority of the state."
Putting solar into former brownfields is one common strategy communities adopt. This approach has taken hold in many locations throughout the United States, including Lowell, Mass., where a solar array has been sited on a former landfill.
Low-income renters and homeowners who are interested in participating in community solar projects can sign up without any credit checks.
Correction: An earlier version of the article stated that Clean Energy Collective was the first organization to install a community solar garden.
You may email the authors of any of the Clean Energy Finance Forum's articles via our contact form.