In Brief
The world's biggest archipelago, Indonesia contains many energy needs. An international coalition has formed to support startups across the country. 
As it grows, Indonesia's clean-power industry works to complement- and not to offend- the state-run electric utility, which still burns prodigious coal. 
New Energy Nexus seeks a collaborative culture, navigating between activism and acquiescence to support promising companies.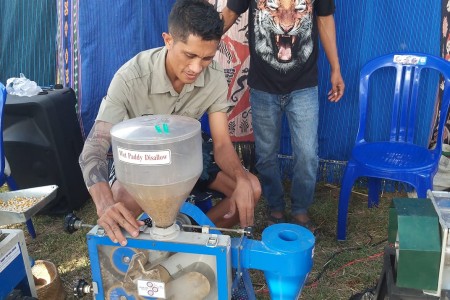 Though renewable energy startups have begun to find their way in Indonesia, they are not yet widely known. However, with support from stakeholders and with efforts from those stakeholders to improve regulatory clarity, startups can gain traction. One international team has set out to offer advice, advocacy, and capital to entrepreneurs across this broad and economically varied nation.
Crystallizing  what is it means to be a renewable energy entrepreneur in Indonesia
The team, New Energy Nexus, says it aims to foster collaboration across the state, the global venture network, and the nascent entrepreneur ecosystem. "Discourse on renewable energy in Indonesia has always been about big infrastructure projects, regulation barriers, and grassroots activism," says Diyanto Imam, Director of Accelerator Program at New Energy Nexus Indonesia. "We're trying to present how startups can also [collaborate with other forces]  in supporting the transition [to renewable energy]."
New Energy Nexus is an international non-profit organization that originated from California but is now operating in multiple countries, including Indonesia. Currently, it operates programs in New York, China, India, Southeast Asia, and East Africa. In 2004, the firm announced $30 million in direct financing in companies through cooperation with venture capital firms. Since 2019, the organization has provided assistance to 44 startups across the country, including non-commercial grants and commercial loans.
Since the concept of becoming a renewable energy entrepreneur was so novel in Indonesia when the organization began operating in Indonesia, New Energy Nexus spent most of 2019 explaining to the public what it means to be a renewable energy entrepreneur. In addition to a nationwide open application for its smart energy incubation program, New Energy Nexus holds hackathons and boot camps in major cities in Indonesia to publicize these programs to potential teams. The initiative is accessible to hardware and software teams, as well as start-ups in energy storage, e-mobility,  smart grids, Internet-of-things applications and energy access.
The organization is still trying to boost its signal. "One of our major challenges is that many people do not understand how to build a business model or a product that satisfies customer demands. [It is] not only about how to start a company, but also about creating goods and services that are both technologically advanced and tailored to market needs," says Imam.
Imam and his investors agreeably entered at the start of the learning curve in light of what they see as a promising investment thesis. First and foremost, Indonesia is a developing country with strong economic growth. New Energy Nexus believes that, in the future, the implementation of renewable energy can grow more affordable.
Second, New Energy Nexus is optimistic about the possibility of focusing more on specialized applications, especially in non-metropolitan and rural areas  and in industries like agriculture, health, and maritime sectors. "Productive use of energy focuses on the immediate benefit for the user as well as the startup. This is where both economic and social impact could directly happen," says Imam.
Third, the team sees steep opportunity for electric mobility. "We are talking about [investing in] the charging station, the battery, the business model for the conversion," says Imam. This investment theme steers New Energy Nexus into questions about how Indonesia plans and funds its infrastructure. That means the team engages, carefully, with government. 
Tailoring the approach unique to local challenges
Only a minority of those involved in entrepreneurship involving renewable energy access come from an entrepreneurial background. Most are either NGO professionals or  technical engineers, and are unfamiliar with the rhythms of developing enterprises.
Sumba Sustainable Solutions, one of the startups incubated by New Energy Nexus, implemented their program in one of the areas that still lacks access to energy. They created a number of solar-powered home appliances to reduce the domestic workloads of rural women while also facilitating business growth centered on local commodities. Depending on location, they have created solar-powered rice mills, corn mills, coconut graters, coffee grinders, cassava graters, water pumps, water filters, and ice makers.
Just as ideas that fit in an international context might not fit in Indonesia, ideas that apply to how Jakarta-based startups aspire to create an impact may not apply in remote areas. While these start-ups can make all the innovation they want, if it does not meet what the local community needs, it will not perform well. Thus, capacity building is very important.
The most critical aspect of energy access entrepreneurship is how the solution can be relevant to local problems. "Carbon credits are a solution to a global problem and certainly will not be [compelling as]  a solution to a local problem in remote Indonesia," says Imam. Carbon credits might be one of the motivations for a renewable energy generator to operates, but can't be the only reason.
" For us, [what's groundbreaking] is how the modifications are made in respond to local challenges," says Imam.
Pendulum, another startup incubated by New Energy Nexus, illustrates a local approach. They are developing a weight power generator to be installed on offshore fishing platforms, locally known as bagan. This is an intriguing technology because it does not make sense for PLN, Indonesia's  state-owned electricity company, to pull distribution line cables to the middle of the sea supporting only offshore fishing platform. Moreover, there are numerous bagan operating across Indonesia seas as they represent one of the traditional ways to fish in the archipelago.
Currently, a bagan is either operated without lighting at all or with kerosene. This weight power generator demonstrates one of the forms of product use of energy. Pendulum succeeded in creating prototypes, and says it's currently using proprietary user data in improving their product.
New Energy Nexus also tries to invite ideas from all of Indonesia. It's encouraged female entrepreneurs to apply, as well as people living outside of Java, especially Eastern parts of Indonesia.
"This is important because, for example, people living in Jakarta may struggle to understand the distinction of issues in North Maluku," Imam says.
To be sure, more than 90% of the project's proponents are still rooted in Java. Recognizing the difficulties, New Energy Nexus created a program focusing in energy access, which is aimed directly at people living outside of Java.
Redefining what matters
"…It's not just about the [funding] amount. The funding structure needed by renewable energy startups in Indonesia is different from most startups currently developing in Indonesia, where most of them are digital," Imam says.
It takes longer for renewable energy entrepreneurs to achieve the same level of operations as digital entrepreneurs. "A product takes at least 16-18 months just to develop," Imam says. Thus, venture capitalists who have previously financed digital startups, when looking at another startup to invest, are unlikely to turn instinctively to renewable energy startups. "The exception comes with projects related to artificial intelligence and other internet of things services –– which, of course, would be intriguing to be developed in Indonesia," Imam says, calling for clearer regulation on how energy can integrate with digital services. Such regulation, bolstered by engagement with rural groups, could provide more certainty and guidelines across this fast-growing nation.