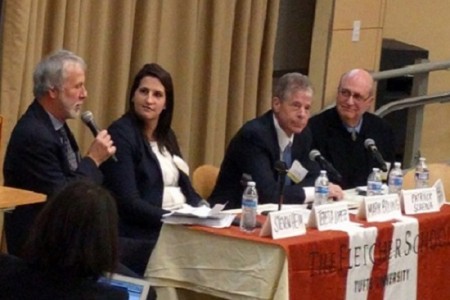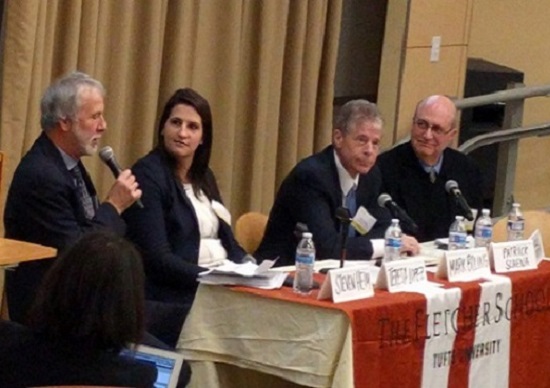 While some United States companies and politicians avoid addressing climate issues, other organizations are accelerating their response. At Tufts Energy Conference on Feb. 2, a panel of decision makers from the oil, gas and finance industries explained why they seek consistent prices for carbon.
"Without United States leadership on a carbon price, the rest of the world will move toward this," said Teresa Lopez, environmental products trading manager at BP. "We don't think the rest of the world will wait for the United States to do this."
Lopez said the state-level carbon pricing schemes the United States is pursuing are very inconvenient from BP's perspective. They lack flexibility and are too local. 
"One of the more concerning trends we are seeing right now is the state-level highly disjointed pricing mechanism," Lopez said. "Global pricing is far more advantageous."
Funlola Otukoya, investor lead at CDP, said that according to his organization, over 65 national governments have put a price on carbon. These nations produce 15 percent of global greenhouse gas emissions.
"A carbon price is very interesting because companies are making asset decisions. Some are including carbon and some are not," said Steven Heim, managing director at Boston Community Asset Management.
The strategies that organizations and nations use to address these issues vary, Heim said. "Companies are having internal carbon pricing. Canada and Europe have carbon pricing. The big issue is global carbon pricing. BP is supportive. United States oil and gas companies are reluctant."
"BP uses its own internal carbon pricing to evaluate projects," Lopez said.
Libertarian stakeholders in the corporate sector are considering carbon pricing in pragmatic terms.
"In a free-market economy, all companies should be required to account for their cost of production," said Mark Boling, founder and CEO of 2C Energy. "If there is a huge difference between market cost and social cost, you have a market failure. We don't have regulations that say 'Thou shalt not put all this carbon in the air.'"
How can this problem be solved? Some decision makers are discussing using an economic reverse calculation to set targets based on the goals of the (IPCC).
According to Boling, the IPCC looked at 1200 different scenarios. 120 of these reached 2˚C. This scenario analysis is going to be used for global goal setting.
"I think they're going to reverse-engineer the price," Boling said. This would involve working backward from a desired outcome to set carbon pricing based on the global climate results.
In contrast, using the in the United States has proven to be awkward, Boling said. This is because there is extensive debate about discount rates. This debate revolves around the value of changes that impact future generations. Assigning this value economically is a difficult and controversial decision.
"It really seems like a game of hot potato," Otukoya said. "Short-term investors and long-term investors are passing around the risk." 
Heim said he is organizing a meeting in March with companies to discuss climate-related scenarios and talk about what actions to take.
In December, Climate Action 100+ announced its launch. It is a five-year global initiative in which investors are looking for ways to move boards of directors to take action to reduce the impact of companies that emit high levels of greenhouse gases.
At the same time, We Are Still In, Ceres, As You Sow, Sustainability Roundtable, and other organizations are motivating the corporate sector toward setting higher climate goals.  
How can companies move their resources toward sustainable technologies? Some are making progress, but there is a long way to go.
"As an industry person, I'm going to say I'm awash in oil. I'm awash in natural gas. It's a buyer's market," Boling said.
Heim made an expansive hand gesture. "The amount invested in oil and gas is much larger than the amount invested in renewables. Put your capital somewhere else." 
Shell, which was not represented on the panel, has invested in a startup at Massachusetts Institute of Technology (MIT) that is seeking to repurpose oil wells to generate geothermal power.
During the panel on technological innovation on Feb. 3, Paris Smalls, CEO of Eden Geopower, said he developed this startup during his graduate program.
"We utilize existing wells for power production," Smalls said. He estimated that there are 1 million abandoned oil and gas wells in the United States. 20,000 to 30,000 of these could be used to produce power. This could yield around 6 GW.
A repurposed underwater geothermal well might be two miles deep, Smalls said. The internal temperature would be around 500 degrees Fahrenheit. It would operate 90 percent of the time year-round for 20 years. There are many other geothermal power sources available in the United States as well.
Boling said companies should ask themselves: "Are you an energy company or a fossil fuel company?"
"If you're a fossil fuel company, your days are numbered," Boling said. "Get out of the Canadian oil sands and start putting your money into products that are low-carbon."
"When we first started using fossil fuel, everyone thought it was wonderful. It took 100 years for us to question that," said Gerald Roston, CEO of Civionics.
Join our LinkedIn group to discuss this article. You may also email the author directly using our contact form.