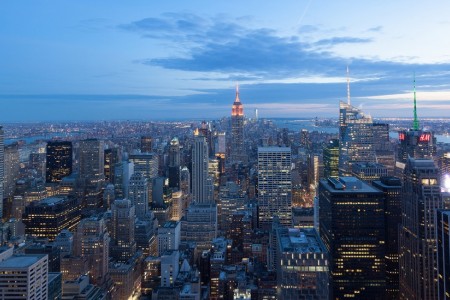 In most of the United States, low-to-moderate-income (LMI) communities have little to no voice about how solar energy can bring jobs and economic stability. New York is an exception. The state held an extended dialogue on this subject this year through the CDG Low-Income Collaborative.
Although the New York Public Service Commission (NYPSC) dismissed the committee's recommendations, New York State Energy Research and Development Authority (NYSERDA) decided to put some of them in place.
Are utilities competing with smaller solar providers?
The difference of viewpoint between the CDG Low-Income Collaborative and the NYPSC hinges on an economic question.
Should New York allow utilities to manage solar programs for this market? Or should it rely on local businesses and nonprofits?
"The multiplier effect of having locally-based companies for any economic pursuit is well known," said Adam Flint, Southern Tier Solar Works Program manager at Binghamton Regional Sustainability Coalition. "Nonprofit developers are going to deliver the most value."
According to Energy Democracy Alliance, 40 percent of New York's population is low-to-moderate-income. Major barriers face this population. Lack of access to capital for upfront installations is one of them. Credit access issues also create roadblocks. A lack of state investment also hamstrings investment in this market.
How is New York taking the lead in addressing affordability?
State leaders in New York, including Richard Kauffman, chairman of energy and finance, have spoken out about the importance of affordable solar power.
Anthony Giancatarino, director of policy and strategy at Center for Social Inclusion, quoted Kauffman's comment from a state website: "Democratizing the production of power allows individuals and communities to take control of their energy future and realize the economic, social and environmental benefits of solar and other renewable energy resources."
Putting this ideal into practice requires extensive negotiation and planning. New York's Reforming the Energy Vision (REV) initiative outlined that the state's expectations for solar energy would be discussed in a multi-phase process. This dialogue was part of one of these phases.
"We want to see the benefits of the REV and everything that's involved with transforming our old, dirty, centralized fossil system into a new, decentralized, renewable system distributed to the people who aren't getting their share," Flint said. "We need to see more consistency around a vision that puts climate, environmental justice, and economic goals first – and not the utilities or any private interest."
However, Flint said he recognizes that New York has a "strong current of sentiment" in support of privatizing solar power and reducing incentives.
"We're more than half a year into the life of shared solar in the third year of the REV," Flint said. "The state needs to come to terms in the fact that we're not in a post-incentive environment at all."
So this discussion took place in a climate where nonprofits and small solar companies were competing with utilities and larger solar firms – with a statewide trend toward solutions driven by the private sector.
What solutions did stakeholders propose?
The committee proposed many potential solutions. All of them were dismissed by the NYPSC as not "workable," but some are being adopted by NYSERDA.
Creating state incentives for low-income solar is one proposed solution. These would be funded by existing clean energy funds supported by all consumers.
In Minnesota, cooperative ownership models for low-income shared solar are working well. The committee suggested adopting a similar approach in New York. Technical assistance for developing innovative project models might also yield new approaches.
Collaborating with the New York Green Bank to provide credit support and affordable financing is another option that the committee discussed.
Preventing predatory lending by ensuring consumer-friendly financing would be an important keystone of solar power's success in New York – regardless of the NYPSC's decision.
The committee recommended adjusting participation goals so that they are more flexible statewide. A previous temporary requirement specified that every community-shared solar project should have 20 percent low-income participation. A more flexible requirement would be that this percentage could apply statewide to all of these projects combined. Spreading participation across the state would ensure that a variety of communities could benefit from community-shared solar.
Clarifying New York's net-metering policy would ensure that customers know the value of the solar projects they are considering.
How was the process structured?
The REV process for solar distributed generation is taking place in two phases, according to the committee report. Phase One took place from Oct. 19 to April 30. It focused on supporting low-income communities and "providing locational benefits to the grid." Phase Two, which began on May 1, focused on expanding distributed generation across the board to a larger set of communities.
NYPSC staff asked the committee to weigh in on standardized customer contracts, energy-efficiency requirements, marketing approaches, data management, financing recommendations, business models, and barriers and technical constraints limiting participation.
It is unclear why the NYPSC decided to dismiss all of the committee's recommendations. NYPSC staff were unavailable to comment on the situation for this article.

"The initial engagement with the PSC staff was pretty synergistic," Giancatarino said. "It seemed like a good opportunity. But after the collaborative had put in a proposal, there was radio silence."
"That's why we felt a little blindsided by this report," Flint said. "It was a constructive dialogue. Once the first extension came and went and there were no communications at all from staff, I started to get a bit nervous."
On Aug. 15, the NYPSC published a report saying that none of the recommendations were workable. It recommended utility ownership of shared solar and advised that the committee be disbanded.
"They dismissed all of the solutions everyone put all of the time and energy into creating," Giancatarino said. "They released a report defaulting to utility ownership. There was no explanation."
Why did utility ownership become the preferred choice?
Giancatarino said there was a lack of transparency and accountability on the part of the NYPSC. However, in retrospect, he said he saw signs that this decision might occur.
National Grid was not available to comment on the decision.
"We shouldn't have been so surprised at their response," Giancatarino said. "During the REV orders a year and a half ago there was a line that called out that utilities would not be able to own renewable energy projects during REV except in low-income communities. [It said] the market for renewable energy wouldn't be there in time in the low-income communities, so it should default to utility ownership. That was a bit out of left field."
"We are going to be continuing our discussions with staff, commission and NYSERDA, as well as the legislature," Flint said. "The report came out in the deadest point of summer. As the fall wears on, we'll have a better sense of where the parties stand with this."
Might utilities put these ideas in place?
Flint and Giancatarino said they are not sure whether utilities would take action on any of their recommendations.
"I fail to see how utilities could do a better job at providing shared solar access than private developers and nonprofit community-based developers," Flint said. "NGOs are developing shared solar projects under the cooperative model. I doubt utilities would be able to do anything magical with shared solar. The existing incentives are simply not up to the challenge of bringing solar to all customers."
Flint said he is skeptical of how New York utilities are handling investing in solar power and grid maintenance.
"In general, what we're seeing is an attempt on the part of utilities and a couple of large solar installers to externalize the costs onto other people," Flint said. "With the interconnection situation, we're starting to see the fruit of lack of investment by utilities in their own grid."
In contrast, Giancatarino said he was somewhat hopeful that utilities might adopt the ideas the committee suggested. "Some utilities might be open to some benefit-sharing with low-income communities around renewable energy. This is actually an opportunity for low-income communities, communities of color, and communities that have borne injustices to build wealth. I don't know if the utilities would be open to ceding some of that power and control. I think they would be willing to share benefits."
What is NYSERDA considering?
After seeing the committee's ideas, NYSERDA has been somewhat responsive.
"I know NYSERDA is taking action," Flint said. "If you look at their operating plan and you look at the section on moderate income customer access, they allocated funds to support LMI across the state in various ways. They've included some of the proposals we asked for. We don't know the exact dollar figures involved."
Once NYSERDA releases an RFP, it will show the specifics.
"NYSERDA is offering more hope," Giancatarino said. "They are tasked with a $10 million clean energy fund and to help stimulate the market. They were really interested in leveraging green banks."
Both Flint and Giancatarino said they were worried about the NYPSC's decision.
"We want to avoid [a situation] where people who can afford it can get it and those who can't, can't," Giancatarino said.
Join our LinkedIn group to discuss this article. You may also email the author directly using our contact form.