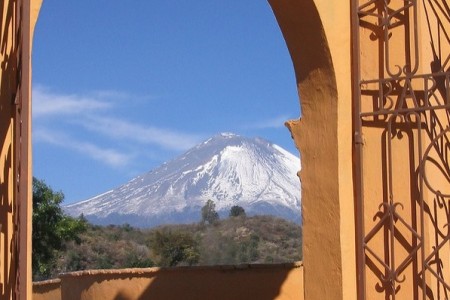 Greentech Media's first international Solar Summit, held on Jan. 27-28 in Mexico City, left more questions than answers about the future of solar in Mexico. Speakers said that the solar markets are in flux at all levels of development. The country is far from reaching a steady state. Developers who are willing to take risks could enjoy huge payoffs but must first face significant regulatory uncertainty.
Mexico is undergoing significant changes to its solar policies, which make solar compete head-to-head with natural gas and hydropower. Decision makers have taken dramatic steps to lessen and alter existing net metering policies.
These actions have left developers with a broad range of attitudes about the future of solar in the country.
There is a great deal of interaction between solar companies in Mexico and ones in the United States. SolarCity, SunEdison, and Enphase Energy have large teams in Mexico. Many smaller developers split their businesses between Mexico and Texas.
Most attendees were conversational in both English and Spanish. Roughly 85 percent of the attendees were male, but there was significant diversity in age and experience.
Government Agencies Were in the Spotlight
Advocates for the Mexican government agencies were conspicuously absent. There was no one at the conference from the state utility, Comisión Federal de Electricidad (CFE); its regulator, the Comisión Reguladora de Energía; or the government.
However, these federal actors were at the center of almost all formal and informal discussions about the future of solar in Mexico. National regulations intended to guide Mexico through its energy transition began rolling out in December. They are poised to fundamentally change the game throughout the Mexican solar value chain.
Mexico's new energy-transition rules have dispensed with all special treatment of solar. Previously, net metering was allowed for large projects through a special provision that was a part of utility restructuring. The provision was called 'self-supply.'
This restructuring has created an unstable situation in the industry. The previous programs have now closed and have only legacy projects left. When they are complete, utility-scale developers hope that financiers will become comfortable with new kinds of risk. Otherwise, they will be forced to find new partners.
In general, Mexican investors are uncomfortable lending or taking equity shares in solar developers. And international banks want greater scale before they invest.
Although "Tier 1" solar-component manufacturers can boast institutional investors as proof of their quality, even established and successful Mexican developers at the commercial, industrial and residential scale are funded entirely by friends and family. This creates a substantial barrier for entrepreneurs who have fewer resources to draw upon.
Spring Auction Will Heighten Competition for Utility Projects
According to the General Climate Change Law, the Mexican government's goal is to increase the nation's energy consumption from renewable sources and selected natural gas technologies from 25 to 35 percent by 2024. Although before, large-scale developers had many potential off-takers, new policies have reduced the number to one: CFE. The March 2016 auction will be the utility's first tender process in three years. Solar's success in this auction will reveal much about CFE's priorities.
For utility-scale projects, solar must now compete side by side with a new category of "clean energy" fuels. This category includes wind power, hydropower generation, and some natural gas cogeneration.
According to panelists, the overwhelming majority of applications submitted for the 666 MW solicited are for hydropower and natural gas projects. With 200 solar companies bidding, well-established utility-scale developers like Gauss are concerned.
In a poll, 82 percent of conference attendees predicted that solar bids would win 25 percent or less of the total MW. Though the tight timeline may favor solar's quick installation times rather than hydropower and natural gas, Mexico's solar import tariff of 15 percent is a major barrier to cost-competitive bids. The day before the conference, CFE released its maximum price: $74/MWh.
the supply-side challenge of capital availability is weak demand in residential, commercial and industrial markets. The drivers are two-fold: homeowner skepticism and banking access.
Rooftop Solar Is a New Concept for Most Mexicans
As in the United States, most customer acquisition in the Mexican solar industry comes from referrals. But homeowners are skeptical. Many homeowners are unfamiliar with the benefits of solar. They often also see it as a risky proposition. The current low penetration of rooftop PV means there are few homeowners to help developers demystify solar and catalyze the market by talking with their neighbors.
"Low electricity prices make solar an even harder sell," said Steven Broyles, vice president of residential sales for Envolta.
Financial Products Are a Difficult Sell for the Unbanked
Mexicans pay cash for big purchases, often with help from family members. Like United States homeowners, Mexican homeowners need financing to install solar power. A zero-money-down lease is the way most Mexicans afford solar - if developers can overcome the barriers to closing a sale.
According to Broyles, only 40 percent of Mexicans under 28 have a bank account. Fewer than 15 percent have ever taken out a loan.
Information Asymmetries Are Dramatic
In Mexico, critical information is often guarded by people who are difficult to access.
"Mexico is not the easiest place to do business," said Edgar Arvizu, VP of sPower's Latin American operations.
In the current environment, where fundamental elements of country-wide solar policy can change frequently, these challenges are particularly frustrating to newcomers and even established businesses.
For some, this uncertainty reveals the need for a better-coordinated solar lobby in Mexico. lobbying efforts, some developers complain, are fragmented, narrow and ineffective. At a lunch meeting of Mexican solar stakeholders, United States citizens called for ASOLMEX to emulate Solar Energy Industries Association's public, inclusive style.
These are the early days of Mexican solar. As developers and policymakers attempt to create a steady-state solar economy, change will be one of the few things the market can depend on.
Visit our Storify to view selected links from this event's Twitter stream.
Join our LinkedIn group or visit us on Twitter to discuss this article. You may also email the author directly using our contact form.