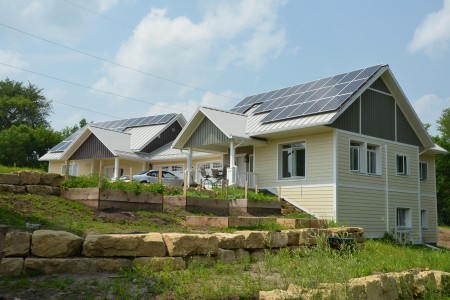 Habitat for Humanity (HFH) is leading the way in developing sustainable, high-efficiency housing for the low- and fixed-income communities. Its latest project, the River Falls Eco Village in Wisconsin, is the first development of its kind to demonstrate that net-zero homes can provide tangible economic and social benefits to low-to-middle-income (LMI) communities.
The village was built on three acres of land donated by the city of River Falls. It includes 18 single-family homes. All residences are occupant-owned, LEED Platinum-rated, and ENERGY STAR 3.0-certified.
The village has received numerous accolades to date, including being recognized as the 2014 Green Builder Affordable Home of the Year. Wisconsin's Focus on Energy program also honored the village for containing six of the state's top 10 most-efficient homes.
Many of the homes far surpass net-zero energy usage. Also, the average homeowner receives approximately $670 in annual credits from the local utility. During an interview following the 2015 Greenbuild conference, HFH project manager Jim Cooper said that this payback on energy bills makes a significant impact on the quality of life of homeowners since much of the saved funds are reallocated to child care, education and food.
Lightening the cost burden of energy consumption for low-income communities has long been a key objective across HFH. In the organization's 2015 Shelter Report, CEO Jonathan Reckford said that "low-income households typically face the greatest energy burden [and] families in these communities often live in older homes that lack adequate insulation and energy-efficient appliances. Low-income families spend more than 17 percent of their incomes on household energy while other households spend, on average, just 4 percent."
How the Mortgages Are Structured
Many of the homeowners rely on mortgages provided by HFH. Most of these applicants fall in the $20,000 - $45,000 income range. This is about 30 – 60 percent of the HUD-classified area median income (AMI). Mortgage applicants are required to provide a score and proof of income. They must also undergo a background check.
The loans are designed to be zero-interest, which is very favorable. Their total monthly fees (principal, taxes and insurance) cannot exceed 30 percent of the homeowners' monthly income. If this is not possible, applicants will take out a "silent" second mortgage to cover the difference in costs. HFH forgives the cost when the primary mortgage is repaid. Most loans are structured to last 30-35 years. History of utility payments is currently not considered by HFH as a credit assessment criterion.
Additionally, five mortgages in the village are serviced by the United States Department of Agriculture, which requires FICO scores in the mid-600 range as well as background checks and home appraisal. HFH has received applications from individuals who are above the 60-percent-of AMI benchmark; these individuals were identified as ineligible.
HFH used grassroots mechanisms to publicize opportunities to apply for homes. This included in-person appearances at community meetings and posts on bulletin boards at local schools, churches and libraries. Although this proved successful for the first village, HFH wants to ensure future success by expanding publicity and community relations efforts for later programs.
How the Project Integrated Clean Energy
In other communities, many homes designed for LMI homeowners are created to be "renewable-ready." These include only the preparatory infrastructure for on-roof solar, but not the panels themselves. In contrast, all River Falls Eco Village homes are created with solar panels in place. They also have built-in efficiency measures such as high-performance windows, efficient insulation and equipment, and certified lighting and appliances.
Such accomplishments couldn't be reached without a series of partnerships – including a relationship with River Falls Municipal Utilities, which provided approximately $45,000 to add more space for insulation in the homes' roofs. This greatly improved their thermal performance. The utility also continuously monitors for opportunities for additional grants, provides low-cost loans to support the village, and lobbies for regulations supporting the expansion of similar projects.
The village strives to demonstrate that zero-energy homes are affordable to own, are durable, and can be readily available to the greater community. This is especially relevant to the LMI market.
Residents are provided free training on how to monitor and adjust energy and water consumption, interior temperatures, and humidity on a daily basis.
Remarkably, 2015 data from the village showed an average PV production of 6,108 kWh, but only showed 3,721 kWh of consumption. The pie chart below shows a detailed overview of the average home's energy usage.
In addition to collaborating with the local utility, HFH relied upon donated labor and building materials as well as creative financing mechanisms. Key partners include the Andersen , Extreme Panel Technologies, and Dow. In many cases, volunteers from each company assist with installation and home assembly. This is synergistic, since HFH projects are used to help employees become more familiar with their company's products. On average, each home requires approximately $30,000 of materials. Labor costs are estimated to be between $30,000 - $40,000.
Join our LinkedIn group or visit us on Twitter to discuss this article. You may also email the author directly using our contact form.